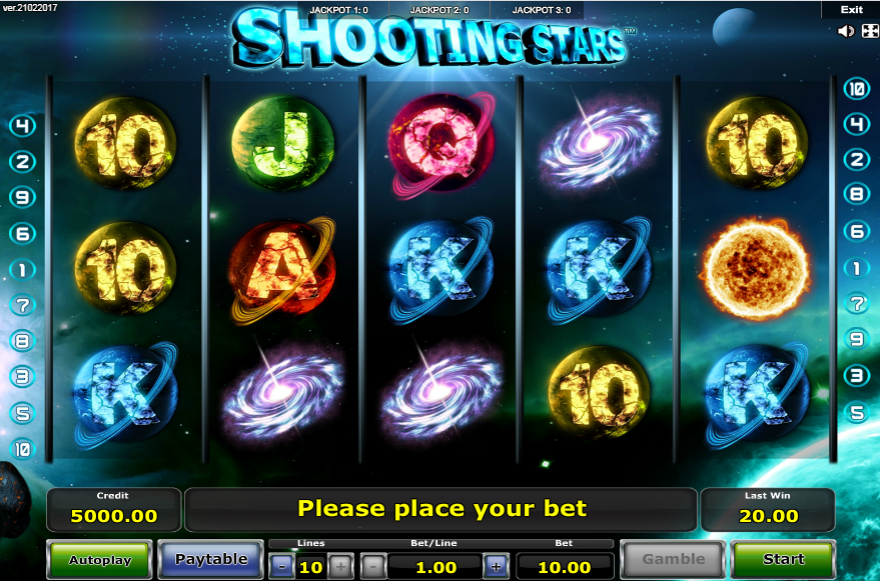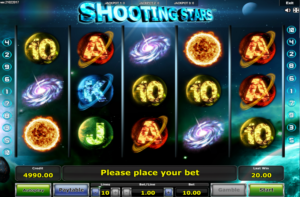 We all love space. But we don't have time to spend even to observe the solar system. Shooting stars free slot game is an exclusive free slot machine, developed to perfection to narrow the gap between us and space. It contains some of the most incredible space objects know to us. The developer has optimized these objects with exquisite animations and quality graphics to match the nature of the online slot gaming world. On the other hand, space is not one of those popular slot themes. Mixing such a theme with the world of online slot games is a massive challenge. It is so obvious that the developer has won that challenge with flying colors. They have even used the card deck icons within space objects to make the mixing even more exciting and accurate.
Shooting Stars Free Online Slot
This free slot machine has 5 reels and 3 rows along with 10 adjustable pay lines. The bet amount per line can also be adjusted from spin to spin. Adjusting these two special settings also adjusts the total bet amount for each spin. The total bet amount for this great game has a range from 1 credit to 1000 credits. It is a very good and acceptable range for a quality online slot game. Thanks to this range, this game has attracted all levels of slot game lovers including newcomers and pro-level players.
There are 8 very special icons in this free slot game. Each of these icons has the power to offer a set of prizes depending on the initial bet. According to the paytable of the game, the most valuable icon is the burning space object and it can offer up to 60000 credits from each spin. Anyway, the amount you can win with each icon also depends on the number of icons that appears on a winning reel. A wild symbol is also available and it can turn even a non-winning combination into a winning one. The wild is also the key to open to shooting star bonus game.