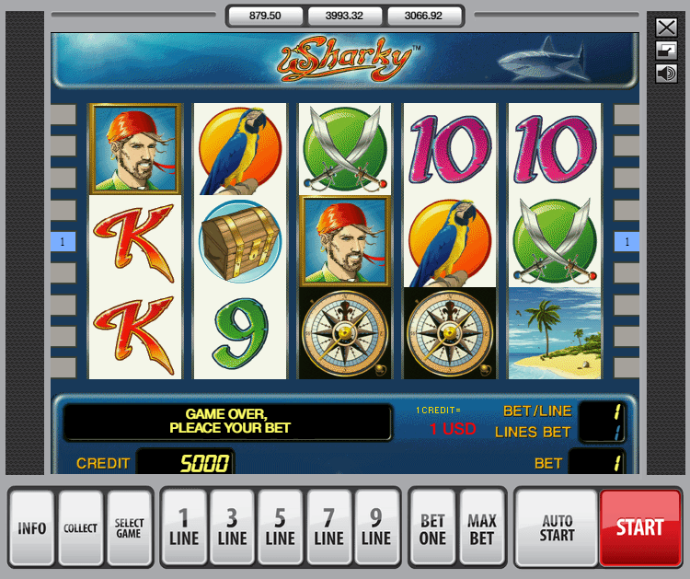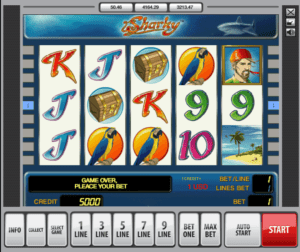 Sharky is a very special free slot game with a unique style. The game is about a treasure-hunting sea voyage on a beautiful sailing ship. I don't think that anyone in the present is capable of having a similar experience for real. The story of the slot game is a bit ancient according to the design of it.
The design of this free slot machine is eye-catching. The graphics and animations are designed to perfection and almost flawless. These crystal clear graphics and animations are also mobile optimized. So, even with a smaller screen, you will be able to see the content of the game very clear.
This highly exciting free slot machine is a 5 reel free slot game with 3 rows and 9 pay lines. You can use the user interface to change the number of pay lines from 1 to 9 even with every single spin. The line bet option is also a variable you can use to change the total bet amount from 1 coin to 900 coins. The total bet amount is the most important influence over the prizing system. The prizing system is available through the info button of the user interface.
Free Slot Online Sharky Novomatic Mobile
According to the prizing system, the most generous icon is the icon of the sailor. He is the key to the biggest regular prize of this free slot gaming system. He is also the wild icon and he has 2x multiplying power as well. Other than that, he works as the treasure hunter especially in the free spin bonus round. The free spin bonus round is triggered by the icon of scatter. There are two scatter symbols for this game but only the sailing ship icon has the power to activate the free bonus round. The free bonus round is the most generous and most important bonus feature for this game. The sailor works as the treasure hunter in the free bonus round. The only problem is the shark attacks. If he can survive it, the sailor will hunt the buried treasures for you.