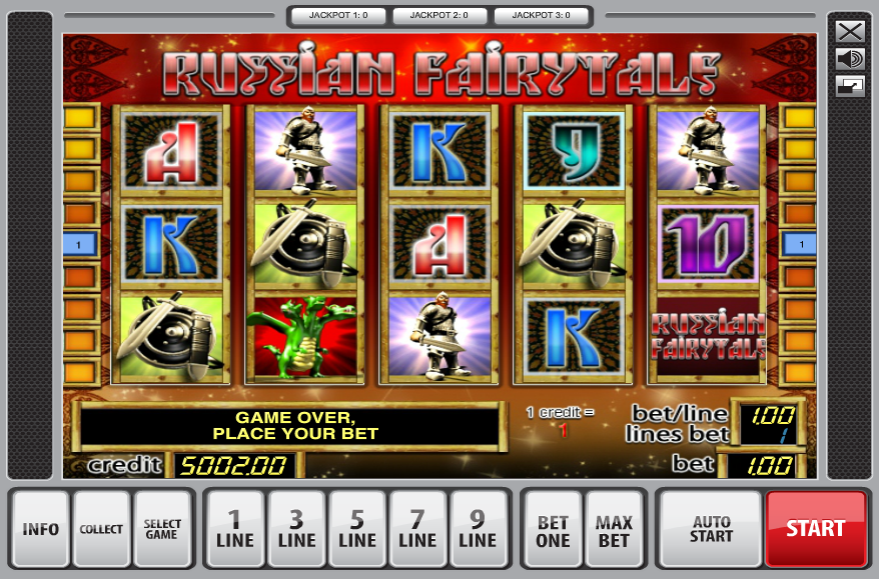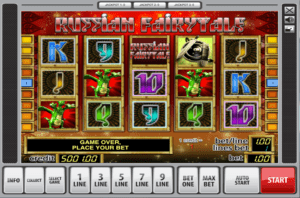 Russian Fairytale is one of the best designed free slot games I have ever played. It is colorful and eye-catching. The game is narrated around famous Russian fairy tale characters we have known from our childhood. This game has provided a great opportunity to spend some quality time with these amazing characters and it is fun. On the other hand, the game is ready to pay big for each minute you spend with them.
Russian fairytale is a cool free slot game with 5 reels and 3 rows. There are also 9 adjustable pay lines in this game and you can change the number of pay lines from spin to spin to change the total bet. You can also use the line bet option to change the total bet. The line bet option offers a range from 1 credit to 100 credits per spin. With these two variables, you can choose a desirable bet from a range from 1 credit to 900 credits for each spin. This is a very good range for any given high-quality free slot game. This range allows all kinds of free slot game players, including low betters and high rollers to enjoy this game.
Slot Machine Russian Fairytale Online Free
Russian fairytale has 13 icons and 7 of them are picture icons. Picture icons are theme-based icons and can offer juicier prizes. 3 of these icons are very special and can activate bonus features. The icon of the worrier is the wild here and it can turn any non-winning combination into a winning combination by replacing other icons. The icon of "RUSSIAN FAIRYTALES" is the key to open the free spin bonus feature. Apart from these, there is also this treasure chest icon and it is the key to open the fabulous BONUS GAME. With these 3 particular bonus features, this amazing free slot game can make you rich beyond your wildest imaginations. Anyway, make sure to invest wisely with bigger bets and also, use as much as activated pay lines as possible for each spin.