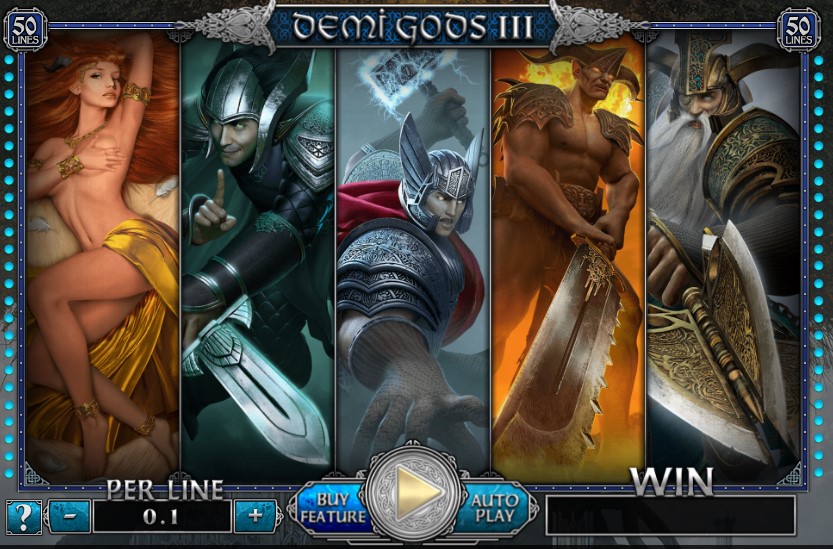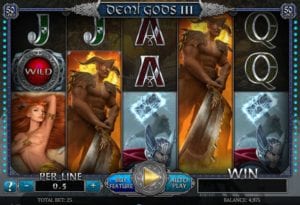 Demi Gods 3 is definitely one of the most adventurous free online slot games I have ever played. It is based on Demigods and their epic journeys. First of all, let me describe Demigods. Demigods are not Gods; but an offspring of a God and a human. According to Greek mythology, there have been several mighty Demigods and some of them are even more powerful than Gods. Some of these Demigods are immortals as well; this amazing free slot game is giving us an opportunity to take a peek at the lives of most adventurous and most powerful demigods who has ever lived. The process need some courage and lot of commitments. Anyway, it is not a process of wasting time; instead, it can be very highly beneficial; you may end up becoming rich beyond your wildest dreams.
Free Demi Gods 3 Slot Online
The reel set is made of 5 reels and 3 rows. There are also 50 pay lines in this free slot game. The number of activated pay lines per spin is unchangeable. It will always remain at 50. In fact, it is a good thing. More active pay lines means more winning chances for the player. To change the betting amount, one can use the betting amount per line option.
This is also a game with highest quality graphics and animations. You can feel the power of those mighty Demigods thanks to these amazing graphic designs, eye catching aniumationss and matching high quality sound tracks.
Demigods 3 is a free spin heaven. According to the pay table, there are about 11 different free spin modes included in this game. Each has different benefits too. On the other hand, each also represent a different Demigod with different set of powers.
Apart from that, there are several other bonus features in this game including buy features, win multipliers, synced reels, power pins and many a more.