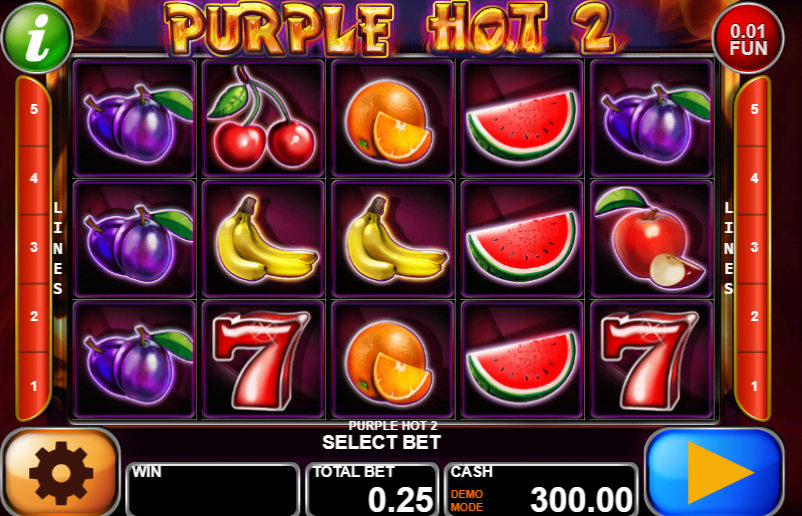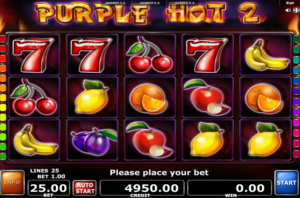 Purple hot 2 is a fruit-themed free slot game with lots of fun. It is a very simple slot game with lots of classic features. This game is specially designed for retro-style slot game lovers. Playing this online free slot game is almost as same as playing a good old ground-based slot machine. But some advanced slot gaming technologies are added to make the gameplay even more entertaining. Purple hot 2 is a well-designed free slot game with fantastic graphics and eye-catching animations. On the other hand, it is also one of the most colorful slot games I have ever played. The game is mobile optimized too. So, you can use any format of the device including smart mobile devices to play this classic entertainer. It uses very little recourses from your device and working lightning fast even with minimum recourses.
Purple Hot 2 Free Online Slot
Another added modification is the number of pay lines it offers. There are 25 pay lines available if you activate all of them for each spin. It is a big number even for the modern slot gaming era. It also means that it offers endless numbers of winning combinations with every spin you make. The line bet amount is also adjustable in this free slot machine. It has a range from 1 credit to 100 credits. If you activate all pay lines and bet 100 credits per each activated pay line, the maximum bet per spin could be as big as 2500 credits per spin. That is also a very big number. It also means that the game is ready to offer massive prizes for the punter who is brave enough to bet bigger. The biggest prize is offered by the classic icon lucky 7. It has two large prizes to offer. Anyway, there are no bonus features in this game. But with such an amazing prizing system, a bonus feature is not a compulsory tool.