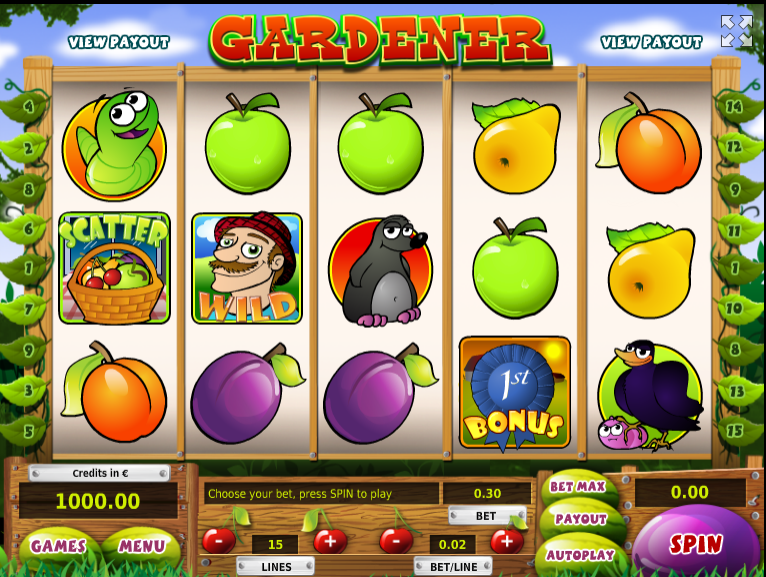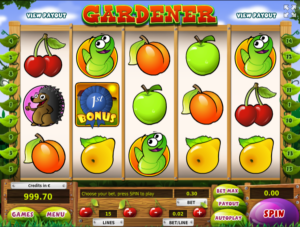 The "Gardner" is once again a very simple free slots game which is perhaps meant for the young slots players. Right from the graphics to the symbols, everything is very jolly and fun. It is such that if you play this game after a day of tiring work, you will actually start feeling better. When the symbols actually align to make you win on the reels, they animate in a very cheerful manner. You can start betting from 0.02 per line and go as much as 1 per line. So since there are 15 pay lines here, the maximum you can bet here is 15 coins total. Since it is a garden themed slot, you will see fruits, animals and pets on the reels. There are no traditional symbols. This is why it is a delight and never does get boring to look at those symbols while you're playing.
Gardener Free Online Slot
There are two bonus rounds here – the fruit contest bonus and the fruit harvest bonus. Now once you have dug and dug to create a good harvest, it remains to be seen whether you can take them to the fruit contest. If you come at the first place in this round, you win 100x times your bet. Your fruits have to be a certain "type" – whether normal, half eaten or worm filled, it shall be judged on the basis of that. It is a complete package of a game. Unlike other free slot machine games, it looks more like a mobile game you can play on the go. There are plenty of things going on in this slot to keep you interested.