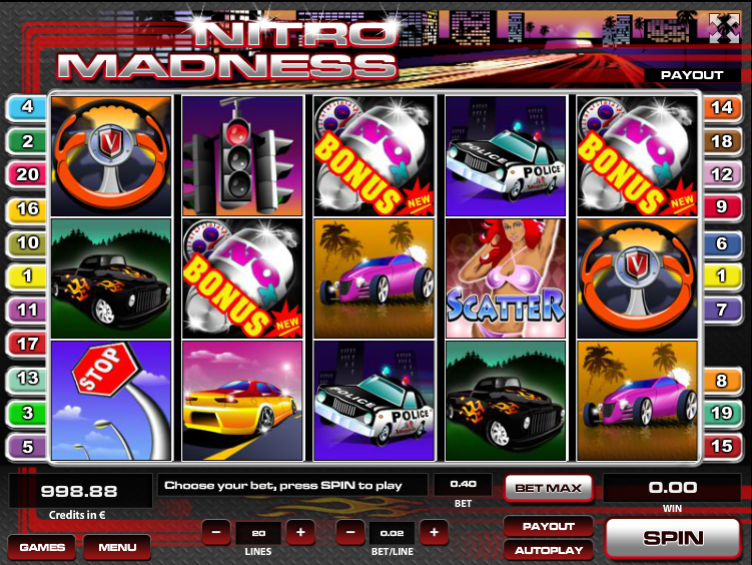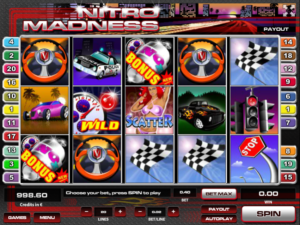 Nitro Madness is a game about cars – in case you thought it had something to do with chemistry (lol!). No. this game is all about adrenaline rush, speed and adventure. It is the perfect game to play while going to work and waiting in traffic. It sets your pace for the day. Plus, it doesn't hurt to win some money at the beginning of the day, right? There are 20 pay lines here but you can adjust them according to your preference. You can choose to bet on 1 pay line or more up to 20 pay lines. The minimum you can bet per line is 0.02 coins this means if you are playing with 20 pay lines then you are placing a bet of only 0.40 coins. It is quite low and it might actually help you play better as you go along with the free slots.
Free Slot Online Nitro Madness
Since it is a racing game, you can spot the stop sign, the red traffic light and the steering wheel quite often on the slot. Is this asking you to stop? No, on the contrary, whenever these symbols appear, they make you win 5 to 100 times your bet. But yes, there are bigger wins also to be won. The police car can make you win 500 times your bet, making you question whether you are playing from the police's side or from the racer's side. The bonus symbol in this free slot machine game triggers a mini game which will make you win real big. You have to pick the driver who can win the race and if he does win, you get 45,000x times your credit!