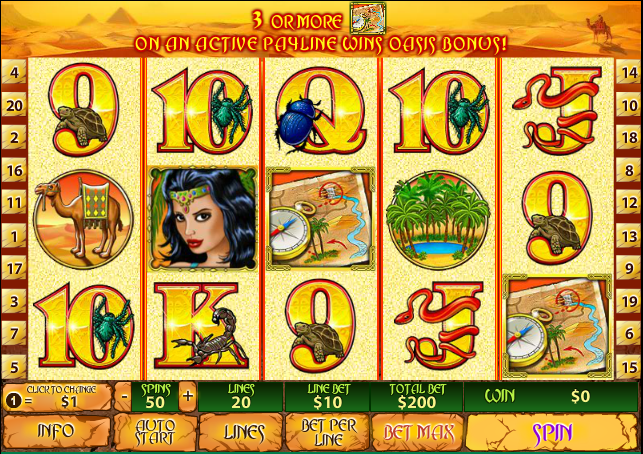 Most regulars of Desert Treasure were a little skeptical when Playtech first decided to roll out Desert Treasure II in free slot games. The facelift was given owing to some low variance issues that cropped up in the first game. But Playtech deserve all the accolades to please all those fans with the upgrade. The sound and graphics have expectedly been revamped for the better. But the big positive comes with the expanding wild symbols in the second, third and fourth reels. The new bonus feature is a welcome change from the previous game as well. While the variance is better than the predecessor, it is still grounded between low and medium. The Oasis symbol from the top play has been shifted to a Bedouin chap in this game. Since 5 wilds are not on the cards anymore (absent from this game), the payout for 5 Bedouins is a rollicking 10,000 coins.
Desert Treasure 2 Free Slot
If you work out the odds, there is always a chance for the lucrative jackpot with the full Wilds reels on the third, fourth and fifth reels. But getting the Wilds is a little difficult in this game; far more than it was in the first game. In the Desert Treasure II free video slot, you should consider yourself lucky if you get to see three wilds in a day's play. The Oasis Bonus Game has been revamped into a Picking style game. Being true to the original free slot machine game, there is a good payout if you manage to get the combinations right in the bonus game. However, just like its predecessor, the key to success in the game is in leaving when you have made a humble profit. Once in a while you may get those Bedouins and three lined up Wilds. Until that happens, keep being entertained by the game and walk away with moderate profits.