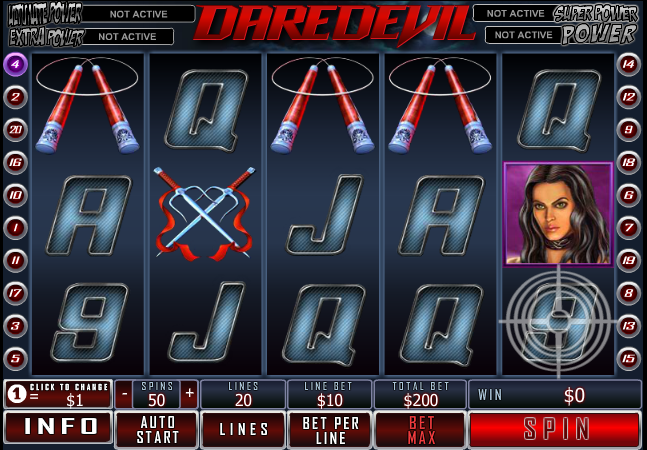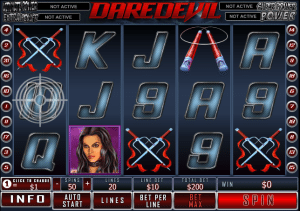 If you are a fan of Marvel comics, then Matt Murdock should be in your list of personal favorites. Designed on the globally popular comic series Dare Devil, this game surely has something for you. A slot video game centered on the character of the superhero clad in red leather, it is a 20 payline game with 5 reels. Brought to the gamers by Playtech Software, Daredevil free slot has stunning graphics with smooth and movie-like animation. Powered by progressive jackpot, this one offers unlimited access to handsome winnings. The original plot of the comics centers on Murdock who took to avenging his father's murder. Just in the same way, the game's wild symbol is the icon of Daredevil. Also, the scatter symbol of the game is the logo of the superhero which has a double D. That's not all, the free slot game brings to life two of the cardinal enemies of the hero, Kingpin and Bullseye.
Daredevil Free Slot Machine
They appear as symbols on the game reels, so does Elektra, the love interest of the protagonist. The rest of the symbols include no human characters, but game curios such as the weapons of the superhero. Starting from Ace to Nine are the high value symbols that make occasional appearances on the reel. What's striking about the free slot is that the animation of the game resembles that of the movie. The images of Dare Devil's super villains come in full figures and to make it look all the more cinematic, they are pasted against backgrounds bearing a sense of foreboding. Scatter symbols appear in twos and sparks emit to show you're yet to go another round. When they appear in more numbers at a time, the logos change into DareDevil and the players get bonus free spins. However, the audio quality of Daredevil is not as impressive as the graphics.