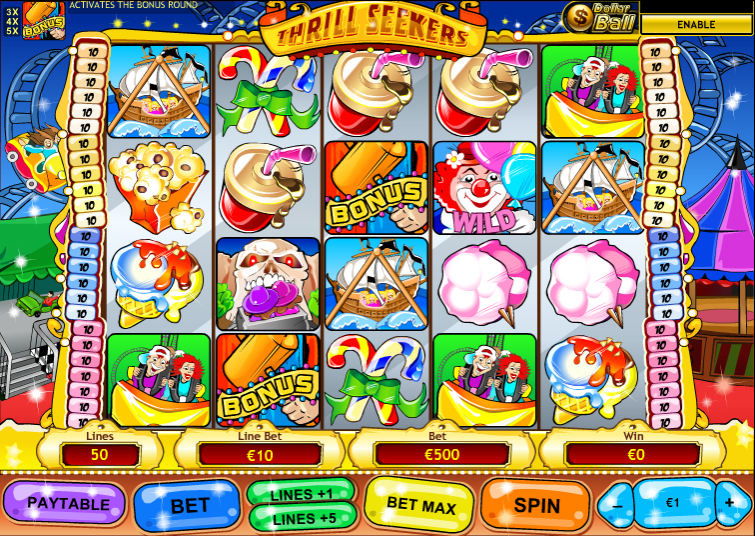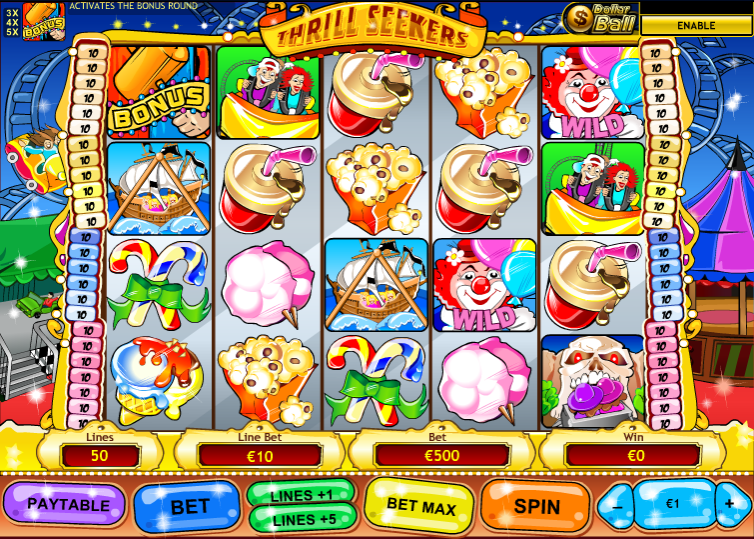 There will hardly be a free slot machine game that will be as colorful as this one. It has tremendous colors on the slot machine and you will be intrigued for a very long time. To check out the pay outs per pay line, have a peek at the pay table that is placed in a purple button at the bottom left of the screen. So as this game is named – there are elements of thrill throughout this slot machine. You have the pirate ships, the roller coasters, the popcorns and the ice creams on a theme park in the slot here. The backdrop of this game is a huge roller coaster and you can say that it takes place in a theme park by the looks of it. The buttons at the bottom all resemble jelly. There's nothing holding you back here from trying your hand at the different spins. Just set the amount per spin using + and '–'buttons and you are good to go.
Thrill Seekers Free Online Slot
The Thrill seekers is an online slot machine game with a massive 50 pay lines – yes that's right! Playtech wasn't kidding when naming it "Thrill seekers". You have your odds at winning and this is one of the best places to have real fun on the slot. Just like its other games, Playtech has come up with something different and interesting in this one too. There are 5 reels and 50 pay lines – hence the chance of the right symbol landing at any one of the pay lines is huge. Don't worry to keep your energy levels high, this slot has soft drinks, candy floss, ice cream, etc too. There's also the pirate ship ride and ghost train symbols. There are two bonus rounds called "Dollar Ball" and "Hammer bonus". The Hammer bonus is based on fairground challenge while the Dollar Ball is a part of progressive jackpot – both giving you a push in terms of winning. They get triggered easily too once you land the appropriate symbols on 3 or more on any pay line.