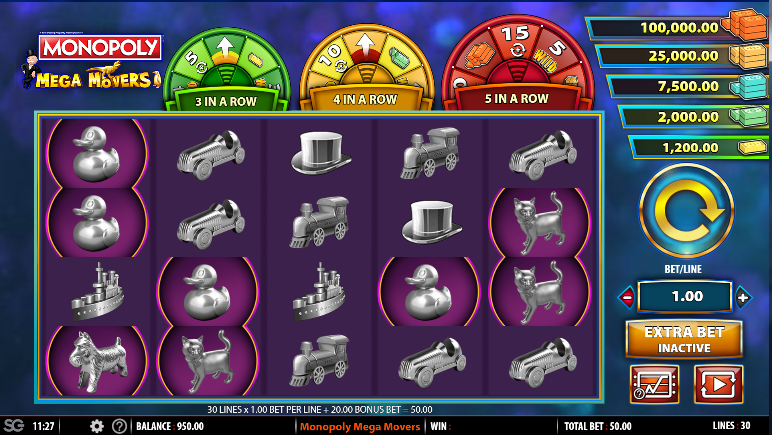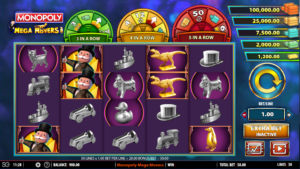 Monopoly Mega Movers is a slot game with a unique style. This pretty exciting free slot game is based on the very famous board game, MONOPOLY. The board game only provide fun but the slot machine also provides many ways to win. In fact, it offers up to 250x of the player's stake even in the base game play. It is definitely more than one could expect from a class-A slot machine.
Monopoly Mega Movers Free Online Slot
The slot game bring almost all items and characters of the original board game to the world of slots. There are Trains, Cars, Ships, Hats, Cats, Dogs, Ducks, Penguins and even Dinosaurs among the symbol lot. Some of these symbols are from latest versions of the board game. All these symbols are capable of offering treasures from the very rich Monopoly world.
The design of the free slot game is very impressive. Graphics, animations and sound tracks are top quality and mind blowing. In fact, the game is simply one of the best designed slots in the cyber space. In this free slot machine, there are 5 reels and 30 paylines to find one's luck. With so many bonus features and everything, it is not a difficult task to achieve. Pay lines of this free slot game are always active. So, the only way to change the total bet amount is changing the line bet.
The most important icon of this game is the icon of Mr. Monopoly. He is so rich and simply award players up to 250x of their initial wager. Other than that there are also some stunning bonus features attached to this game. One of them is the wheel feature. This feature is activated by the BACKGROUND symbol. There are three spinning wheels in this game and the number of BACKGROUND symbols across the reel set decides which reel set is to activate.