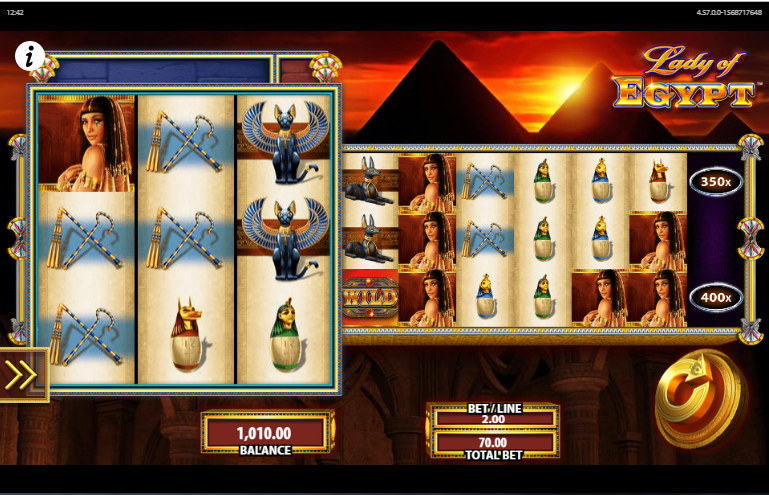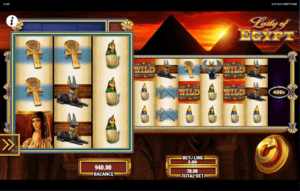 Queen Cleopatra is the most famous and most admired Egyptian lady ever lived. She is not only a queen but a very important historical figure who has influenced almost all kinds of entertaining Medias including online slot games. She was also the last pharaoh of the independent Egyptian empire. She was not only the most beautiful Egyptian lady ever lived in ancient Egypt but also the wealthiest. This amazing free slot machine has provided us a chance to peek at her very controversial life and enormous wealth.
Free Slot Online Lady of Egypt
Lady of Egypt has already gained immense popularity among slot game enthusiasts. It is no surprise because of its high quality configuration. Even the reel set has been extended in this game up to 10 reels. That is the most visible change one can find out about this slot machine. But only three of these reels are activated for each spin. Those three activated pay lines are highlighted by a magnifier with every spin. The activated part moves to the right with every win. Winnings also activate multipliers of this slot machine; starting from 2x. When the game progresses the multiplier values also goes higher up to 100x.
There are 35 pay lines for this online free slot game and they are fixed; you cannot change number of active pay lines in this game. The value of the bet can be changed though. Configuration buttons are hidden in the main reel set. You will have to push the double arrow heads icons if you need any changes the default configurations.
The free spin feature is the best bonus feature one can get from this pretty exciting slot machine. It is activated by the scatter symbol of the game. Usually, the free spin round is about 8 spins per session. Other than that there is also a wild symbol.