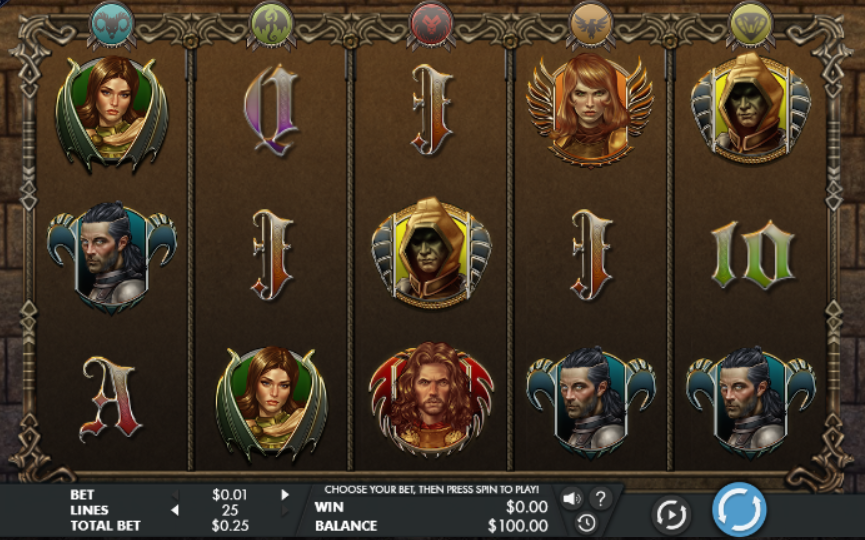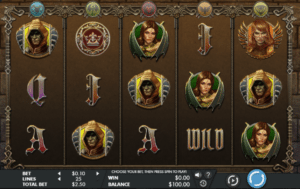 Game of Swords is a unique game which has 25 pay lines and 5 good looking reels. The maximum you can bet here is 750 coins and the maximum you can get is 400 times your bet. This means you stand a chance to win 300,000 whopping coins. There are scatter symbols and wild cards that make this game interesting. As you can understand this game will appeal to the high stakes players.
It has a very interesting graphics also. There are symbols that appear to be very interesting. They tell the tale very nicely. If you are wondering, by now, what this game is about, you might have guessed it correctly – yes, it derives a huge inspiration from Game of Thrones. This is why these free slots attract a lot of players.
Free Game of Swords Slot Online
There are two interesting bonus rounds here – as you would expect. Such a free slot machine game with such a theme should have some interesting bonus rounds to engage us more into it. Thankfully, Genesis Gaming has given us the same. There is one free spins bonus round which gives us ten free spins. The second bonus game is the fight feature. You have to pick from the five houses that are there. You have to fight for the crown. Yes, this is the ultimate game for this. You will have four lives and within this you have to win the crown. You will have to face opponents. Each of these four opponents will have two lives. You have to pick and fight with them one by one. The round shall only be over when you hit your enemies or lose all lives. So are you up for it?