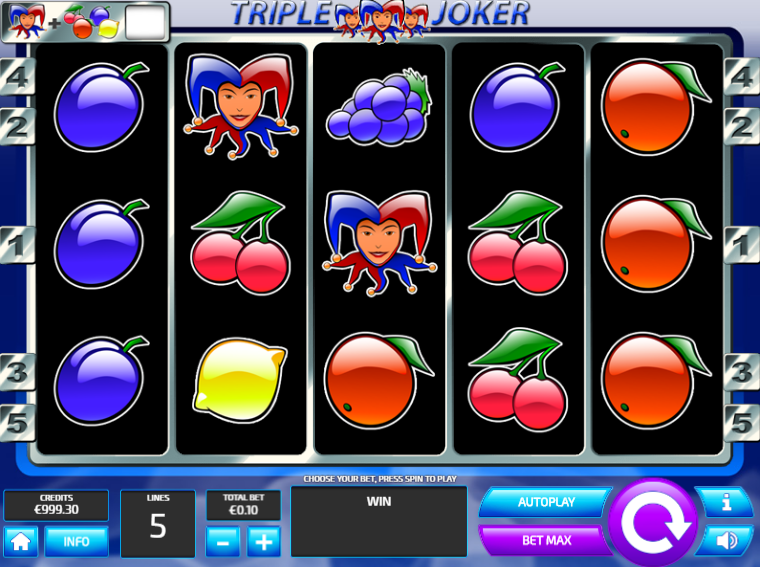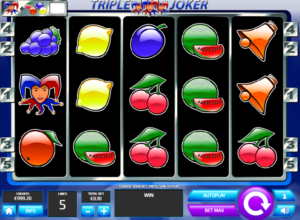 Triple Joker is a free slots game designed by Tom Horn Gaming. This game is a cross between traditional casino slots gaming and modern casino slots gaming. It does not give you much of a challenge whatsoever, but it doesn't get dim any time. You are always kept on your toes because of the sudden influx of winning combos. The animated screen makes it quite an interesting game although the symbols are fruit and bells just like any other slot. Tom Horn Gaming has intentionally kept the theme of the slots a little bit basic so that the old school players enjoy it.
Free Triple Joker Slot Online
Talking about simplicity, the game has 5 reels and 5 pay lines. If you are a newbie player and you don't understand complicated pay lines, you will benefit greatly from this set up. In one word we can say that this game is pretty straightforward. You may bet one coin per line but it is up to you what the value of the coin will be. At the beginning the value is 0.10 coins. As always, the higher you bet, the better you end up winning. To keep things interesting this free slot machine game also has a round of gambling. Almost after every win you can gamble your earnings, but be wise about it because it is a double or nothing game. If you play it wisely you can end up getting good returns on the slot machine. Although everyone agrees that this game is lacking a few features, we think it is good for those who are beginning to play slots. It is certainly easy to play.