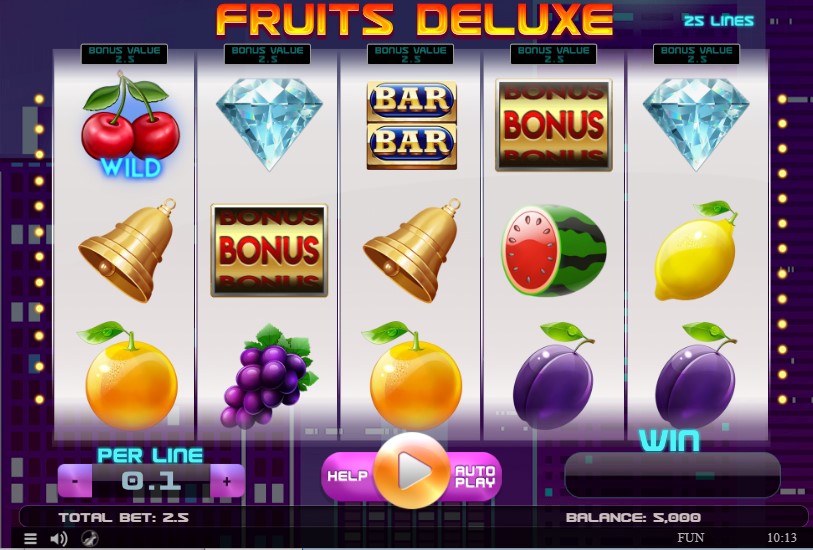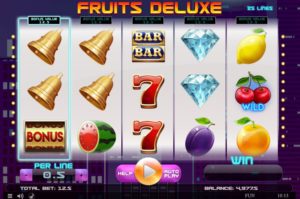 No matter how many new concepts are added to the world of free online slot games, fruit games would be the most favored kind of free slot games among the slot game lovers. There are several reasons too. First and most important reason is the simplicity. These classic fruit games are the simplest slot game verity in the online slot gaming world with simple rules and configurations. The next reason is the betting options. Usually, fruit games let players to bet from very low levels. Even beginner level players with small pockets too can afford these bets. This game, the Fruit Deluxe too is based on this highly popular classic slot gaming theme fruits.
Fruits Deluxe Free Online Slot
Basically, fruit deluxe is a 5 reel free slot game with 25 static pay lines. That means, there are 25 winning chances open, every time you press the spin button. When come to game play, the first and the most important step is making a bet. You can do it simply by selecting an appropriate per line amount; the total bet amount changes simultaneously within a range from 0.25 coins per spin to 250 coins per spin.
Fruit Deluxe is all about fruits. There are plenty of fruit varieties in this free online slot game including watermelons, grapes, oranges, limes and apples. Unfortunately, only apple is among the higher paying symbols. Other symbols too pay but only a little amount according to the pay table of the game. Apple is also the wild symbol of this game.
Apart from apples, there are diamonds, bars, sevens and bells among the higher paying symbols. Apart from this regular paying system there is a very good bonus paying system attached to this game. This system offers us extra wilds, free spins and re-spins, win multipliers, triggering bonuses and also bonus games.