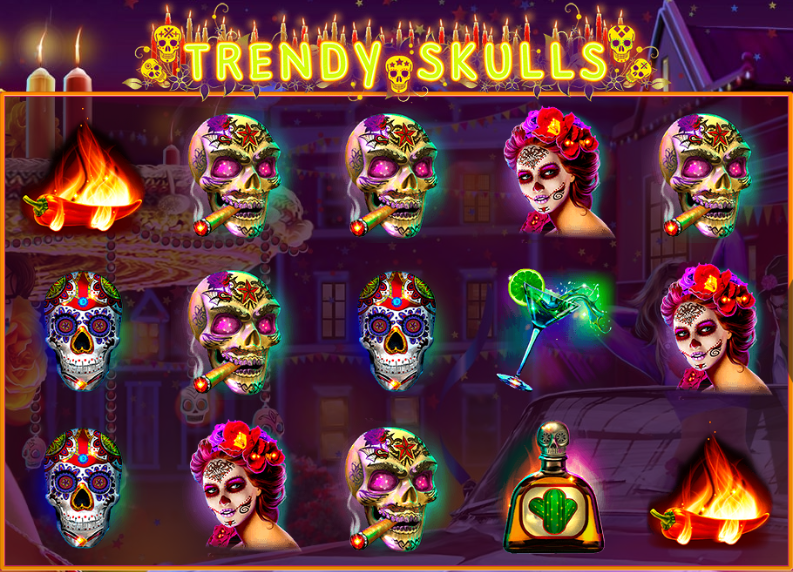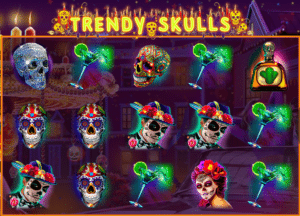 The Day of the Dead is one of the most popular holidays in Mexico, and now it is possible to celebrate this occasion from your own home when you play the Trendy Skull free slot online. The day is called the Dia de Muertos by the locals, and it is a public holiday that is a joyous occasion with the chance of commemorating the loved ones who have died. With this game, you can celebrate while making cash on its 25 paylines, 3 rows, and 5 reels. When you load the Trendy Skull video game, the first thing that you will notice is its phenomenal graphics which can capture the vividness and the color of the holiday.
Free Slot Online Trendy Skulls
The Day of the Dead should be a time to party in style using sugar skulls, which is one of the traditional decorations of the holiday. Ornate skulls that have been blinged up can be found in any place during the Dia de Muertos, and when you play this is what you should expect with this game.
The background of the reel is a combination of the classic decorations like roses and candles with the boisterous forms of celebration, which includes painted faces, people, a real carnival atmosphere and balloons. At the foreground, it is possible to spot a skull painted on a woman. When it gets tossed up, her buxom charms are also prominent. The reels have a stunning array of the best decorations that you can find along with jewel encrusted skulls with classic designs also. You will feel that you are spirited away instantly to the Mexican holiday, and it will be time to celebrate with the party music and cheering found in the background that will immerse you in this cultural experience.