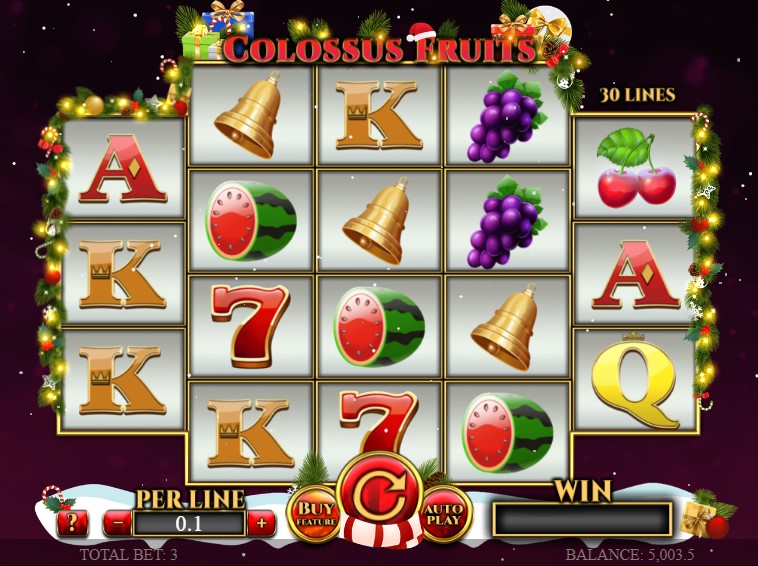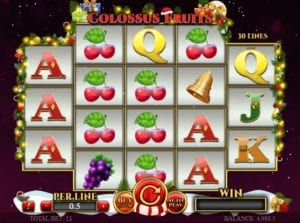 This is another spin off version of the famous free slot game, Colossus fruits. This time, the base game is merged with the Christmas theme. So, the game was developed and changes were made to match the festival nature of the Christmas. Not only that, the frequency of winning has also gone high.
Free Colossus Fruits CE Slot Online
This free online slot game is one of the brightest and most colorful games I have ever played. The developer has done a grade job while selecting appropriate graphics, and animations for the game. On the other hand, these graphics and animations are super cool and total eye catching. It is definitely beyond the quality we can usually see in an ordinary fruit based free online slot game.
The game play is well arranged in this slot game. In fact, it is not a difficult task even if you have never played a slot game before. The main control panel of the game is the most important component when come to play the game. First of all, the player has to choose a betting amount. It can be changed from 0.3 coins per spin to 300 coins per spin. The number of pay lines per spin is always the same. It stuck at 30 because there are no changeable pay lines in this game. In fact it is a very good thing because it provide 30x more winning chances.
There are 5 reels in this game. The most important part of this reel set is the colossus reel set section. Colossus symbols only appears within this reel set. Make sure you keep an eye on this section. It is a section specially introduced to increase the RTP rate of the game.
Fruits are the major theme of this game. But there are some icons which are even more powerful than fruits. One of them is the wild. There are also bonus games, wild symbols, free spins and buy options available with this game.