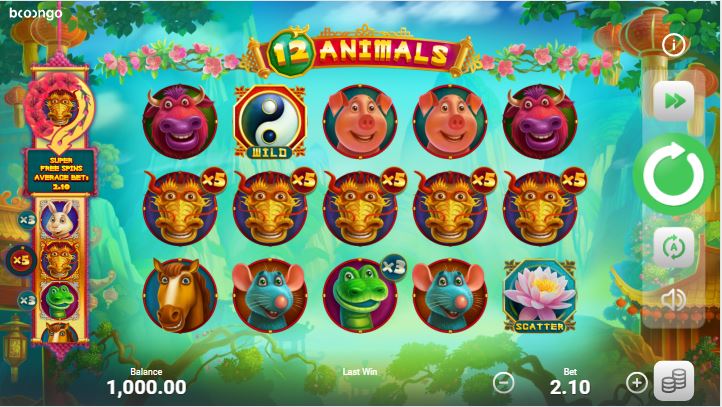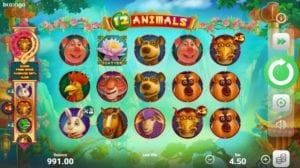 As per the Eastern Horoscope, there are 12 animals that make up a cycle made up of 12 years. Ideally, each of the 12 years is based on specific animals. These animals include the Ox, Bull, Rat, and Pig, to name just but a few. Just as the name suggests, These 12 animals were the inspiration for Boongo's 2017 release, 12 Animals. The game's symbols are derived from these Horoscope creatures and so is its theme.
12 Animals Free Online Slot
Given its success thus far, the game boasts of an RTP of 96%. This is brought about by its handsome payouts which include 24 coins for every 5 matching animals. There are also multiplier options (3x, 5x), free spins, re-spins, and Super Free Spins. In this 5 reel game, a Super Free Spin is triggered by 12 combinations. Each combination of matching animals causes one of the 12 flowers on the right hand side of the screen to blossom. Once all 12 flowers blossom, the Super Free Spin is automatically updated. With this Super Free Spin comes free spins depending on the spinners selection. Multipliers, one the other hand, are added to winning spins if wilds are involved in the winning combination. For instance, a single wild will bring about a 2x winning multiplier.
Game Symbols
As aforementioned, each and every aspect of this game is based on the Eastern Horoscope. In this case, the game's symbols are simply the 12 animals used in the Chinese zodiac. These include the Ox, Rat, Pig, Monkey, Dog, Snake, Horse, Dragon, Rabbit, Tiger, Sheep and Rooster. On the flipside, the Ying Yang symbol is the Wild while the Scatter symbol is a Lotus.