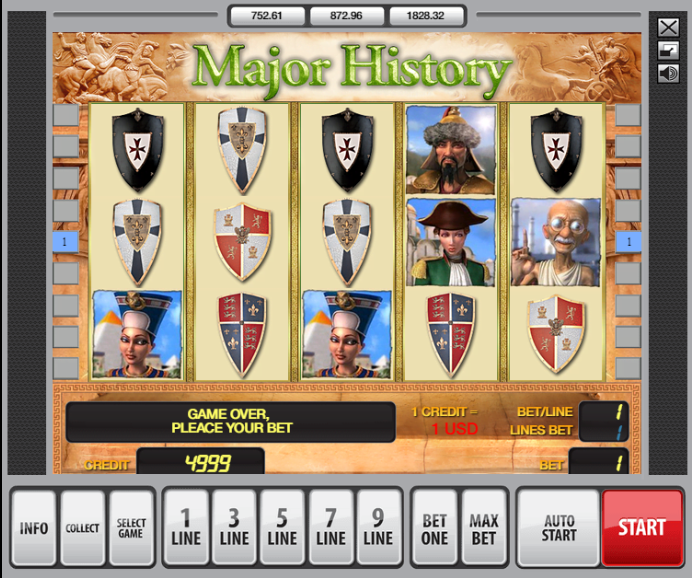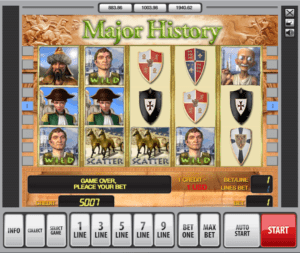 Major History is a very special free slot machine. This is a history-based slot machine but not just a specific era of history. Usually, a history-based slot machine would cover a certain era of human history. But this one covers almost all eras and also from all around the world. It is linked to several famous historic characters. These characters were highly influential and while they were living they were changing the direction of the pathway of mankind. Living among such historic legends is a thrilling experience and a dream come true for most of us. This amazing game not only letting us fulfill that dream but also letting us have a bag full of cash to fulfill our other dreams as well.
Free Slot Online The Major History
Major History is not a history lesson; it is more than that. To prove that, the developer has created a marvelous free slot game with almost zero mistakes from all aspects of the game. The graphics are high quality, animations are brilliant and soundtracks are perfectly fitting with the theme. This colorful free slot machine has 5 reels along with 3 rows and adjustable 9 pay lines.
According to the info section of the game, there are 11 icons in this free slot machine. All of them are picture icons with different powers to offer prizes. According to the paytable, a wild is also there. It replaces any regular icon in the reel set. Apart from the wild there is also a scatter. Scatter is very important because it is the only key to open the free spin bonus round. The free spin bonus round is the most generous feature in this game. It contains up to 25 free spins for each session.
Overall, Major History is a pretty cool and pretty generous slot game from all aspects.