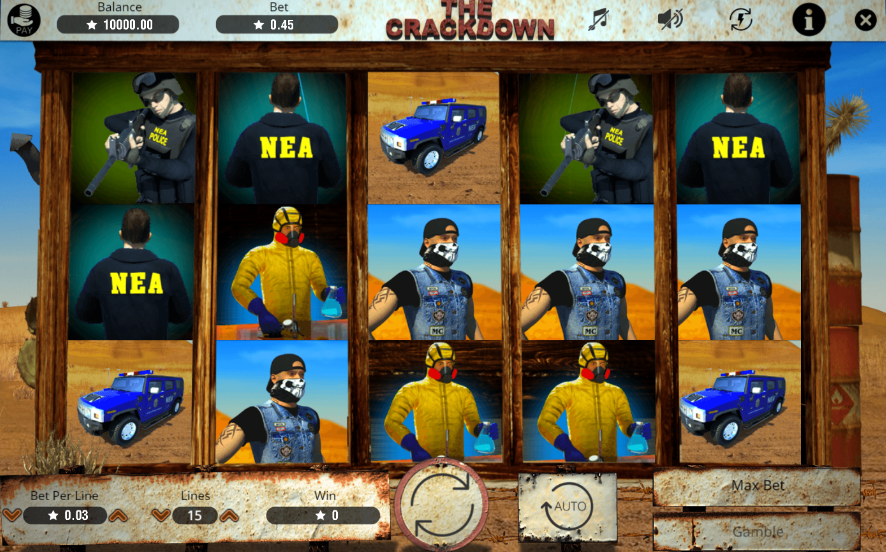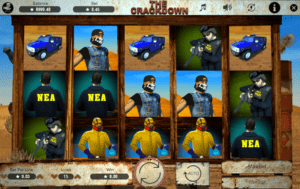 A free slot developed by Booming Games, this shady world of The Crackdown seems to be influenced by the highly intriguing TV series, Breaking Bad. The Crackdown is a 5 reel game with 15 paylines. The story of the game is set in a shady world of drugs and black money. It is quite obvious that the theme of the game may not seem favorable for all, but players who enjoy a touch of pop culture references are sure to like the game. Some impressive and straightforward bonus gameplay is on offer here thanks to wilds and scatters which in turn triggers free spins. For those who are familiar with the hit TV series this game may come as a pleasant and welcome surprise. The reels present numerous images that refer to the dark and sad world of meth production and the law that is supposedly trying to hunt them. The reel symbol that depicts methamphetamine is blue, which is another distinctive characteristic of the TV show from which this slot is inspired.
The Crackdown Free Online Slot
However, for people who have never come across the TV show, the essence of the online slot machine is lost and becomes limited in its charm. Though Booming Games effectively manages to design a perfectly plausible gameplay with quirky 3D symbols and suspenseful music. While placing the bets, some risks are involved because the line bets can range from 0.03 credits minimum to a maximum of 3.00 credits. The maximum bets that can be placed is 45 credits. Every time three scatters appear, a round of 10 free spins get activated. The game also has a wild symbol, synonymous with the piles of money. The Crackdown does offer an interesting and unique gameplay, and it is the ideal game for a Breaking Bad fan but it can also prove to be a bit boring for others since it never acquires anything out of the box to grab our attention. Give this slot video game one chance if you simply cannot resist it.