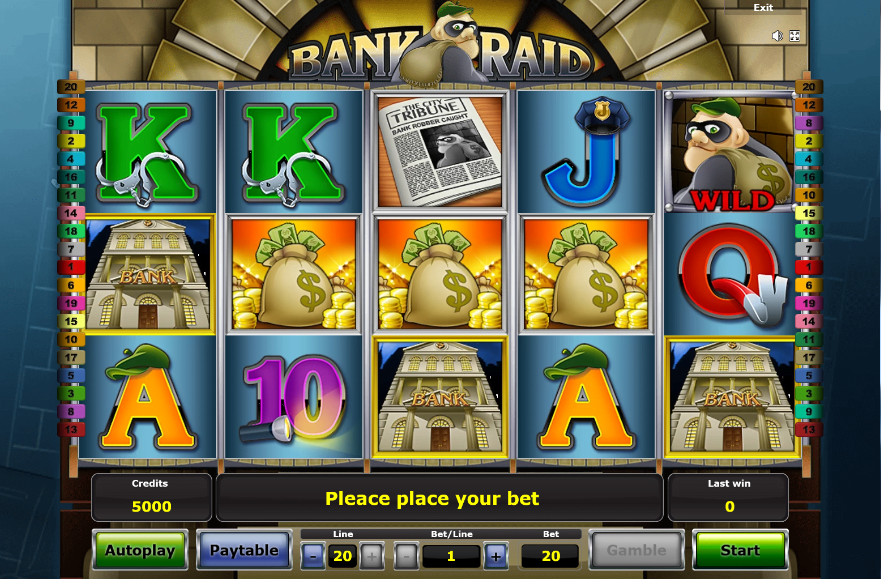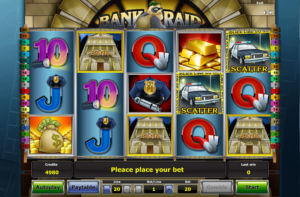 Bank Raid is a unique free slot game with a rare theme. It is also very colorful. Graphics and animations are crystal clear and eye-catching. All animations are cartoon-like but brilliantly created to tell us a story about a bank robbery. It is a very interesting theme. Many of us are not bank robbers because the low won't let to be. On the other hand, robbing a bank is a very thrilling concept for most of us. That is why this theme has been popular even among some of the most famous Hollywood films. This amazing game has finally given us a chance to be a part of such a thrilling incident. Anyway, if you don't like being a part of the robber, you can also be a part of the police and catch the robber and be the low instead.
The Bank Raid Free Online Slot
This amazing free slot machine is a 5 reel game with 3 lightning-fast rows. On the other hand, there are also 20 pay lines for this free slot machine. These pay lines are adjustable from spin to spin. To play this game, first of all, you will have to place a bet. To do that, you can use either of the activated pay lines option or the bet/line option or both from the user interface. After selecting the desired bet amount all you have to do is hitting the start button. The Autoplay option can also be used to start the game. It will roll the reels continuously until you stop the game. A free version of this game is also available online.
There is a scatter symbol and a wild symbol in this free slot machine. The scatter is represented by the Police car and the wild is by the symbol of the robber. Look for these symbols as they have special powers to expand wins for luckiest punters. Scatter is also the most generous symbol in this game with prizes to offer up to 400000 credits.