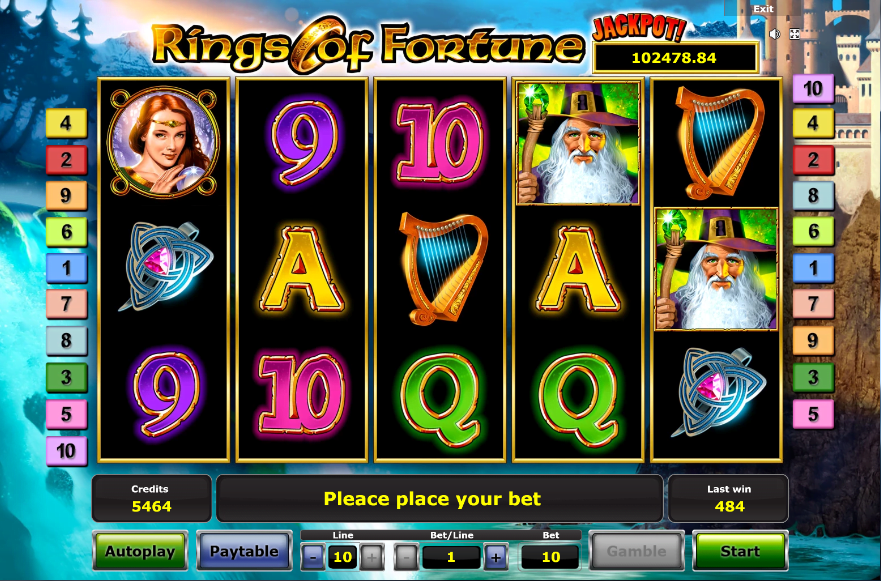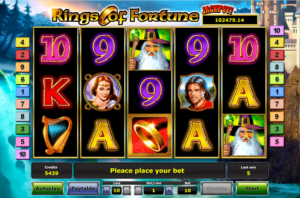 This amazing free slot game reminds me of the popular film series Lord of the rings. This game is not completely following the story of the film series but the influence is visible. As same as in the film series this game too is based on a fantasy medieval age of the earth. According to the legends, this age was ruled by powerful wizards, powerful, and breathtakingly beautiful ladies and noblemen. Above all, there is a powerful and magical ring as well. We don't know what evil powers it can process, but it certainly can grant the wishes of slot game enthusiasts who are brave enough to enter into this ancient fantasy world.
Free Rings of Fortune Slot Online
This game is equipped with about 12 different icons. Most of these icons have connected to the theme of the game. These theme-based icons are also beautifully designed picture symbols. Among these symbols, the most powerful icon is the symbol of the wise wizard. This old wizard has the power to offer a series of prizes to the players. On the other hand, it is also capable of opening the door to the massive progressive jackpot of the game. This jackpot is growing bigger with each second you play this game. If you are lucky enough to activate it, you will be filthy rich beyond your wildest imaginations. The icon of the magic ring is the scatter symbol for this free slot machine. The ring is the key for the bonus free spin round. The bonus free spin round is the next best thing. Unlike the jackpot door, this door is much easier to open.
"Rings of fortune" is a 5 reel free slot machine with 3 rows. You can choose the number of active pay lines per spin from 1 to 10. The bet per line option is also adjustable and it has a range from 1 credit to 100 credits. Changing this setting also changes the total bet per spin from 1 credit to 1000 credits.