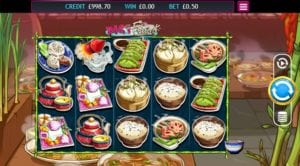 Pigs Feast free slot review is the game that celebrate Chinese New Year. There are enough of plates, delicious dishes in the bowl and fireworks. The game is inspired by Year of Pig. With a number of dishes and two pigs that play as main characters.
Free Slot Online Pigs Feast
The game is taking place over 25 paylines and 5×3 layouts. The paylines are not fixed so the player can decide on how many paylines to play on. The coin size can be between 0.01 up to a 1. In case the player wishes to rest, he can set the game on auto play so that up to 100 rounds can play themselves.
Since the game is about celebrating, then the symbols include also food items. The symbols include many of mouth watering dishes such as dumpling dishes, steaming soup and many more. There are also empty bowls that are found near the reels which shows that the food was delicious enough.
Special features
The Lady Pig that has a platter full of dumplings opens Prize Pick. It comes with a good number of the multiplier, according to what you choose. You will need to get 3 or even more over the reels to open the feature. When you get empty bowls, they do trigger the firework and they reveal a Random multiplier. The rockets will not only bring the fireworks but they also bring new spins.
If you like food or celebration themed slots, then this are the right game for you. Besides slurping and burping, that you may need to ignore, other features are good. The symbols and the design of the game is satisfying, even if some of the features may be challenging.