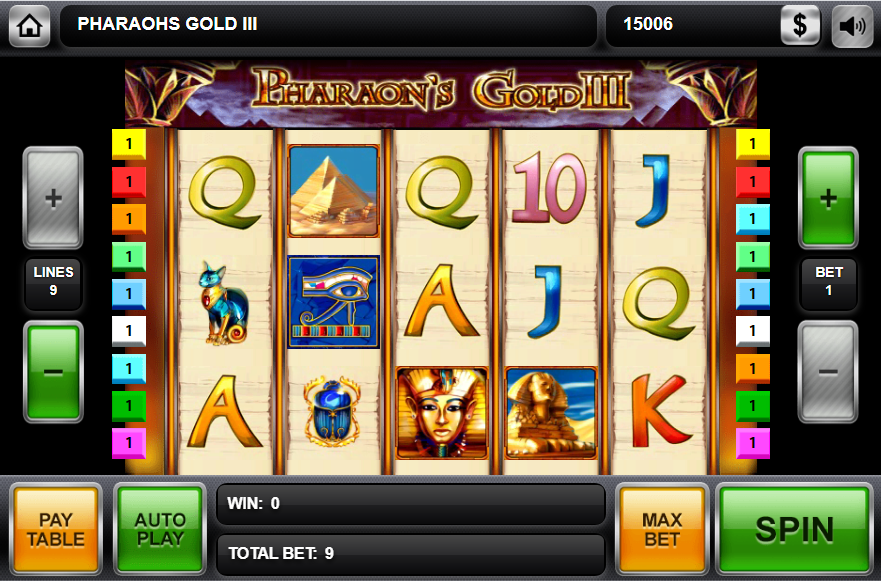 Pharaoh's Gold 3 is the most entertaining free slot game among the Pharaoh's Gold slot game series. It is more fun, more buoyant and packed with better prizes. On the other hand, it can take us to the world of ancient Pharaoh's as no other free slot game could. Graphics and animations are also much better. Some symbols are similar to symbols from previous versions; the developer has optimized these symbols to make them even more eye-catching. A better set of animations have also added.
Pharaoh's Gold 3 is a free slot game with 5 reels and 3 rows with 9 adjustable pay lines. The main interface of this game has equipped with an easy to use set of buttons. Some of these buttons are useful to adjust the basic setting of the game. Other buttons are useful to acquire important information about the game such as the paytable. The basic gameplay rules are also available through the paytable button. The interface of this free slot machine is also the gateway to the treasures of the ancient kingdom of Pharaohs.
Free Pharaohs Gold III Mobile Slot Online
All these treasures are offered to you by the set of symbols of this game. Each of these symbols has the power to offer prizes to the players who are brave enough to dig the mysteries of Pharaohs. The value of the prizes varies according to the sizes of the bet. When the bets are higher, the prices are higher too.
Luckiest players will get the chance to enter into the amazing free bonus rounds. This bonus game has endless cool prizes with almost all spins. It can also be retriggered. Apart from that, all free bonus round winnings are multiplied by three at the end of each session. This amazing bonus feature is activated by the scatter symbol of the game. There is also a wild symbol and it can substitute any regular symbol to build winning combinations. The wild also has the power to double every win it produces.