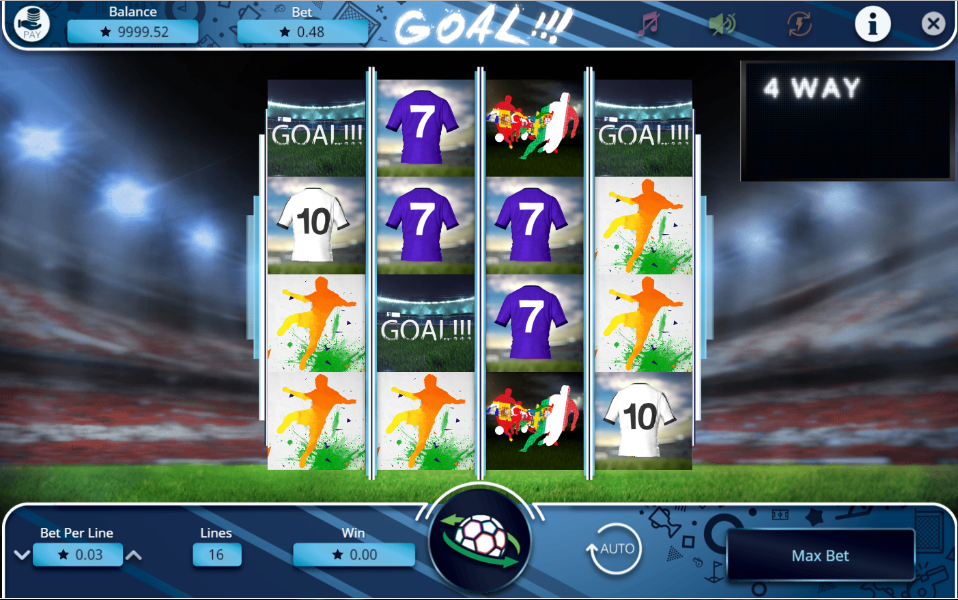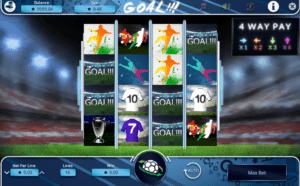 Now this is the time to check out some real sports with this Booming Games online slot machine game. All you football lovers can expect some real excitement in this free slot machine game. For the start, this game is offered with a 4*4 grid and 16 payline. These paylines run in all directions starting from left to right, top to bottom, right to left and then from bottom to top. But the best part is, wins in certain direction are much more, you will get bigger wins in certain directions. Overall, the wins can offer you more than 120000 credits. The reels are presented in the stadium background and these will show a variety of football icons. You will see there are two football shirts. First one is a purple shirt with the Number 7 and the second one is with number 10.
Goal!!! Free Online Slot
This free slots game is different than any other slot machine games because it has got 4 reels unlike the customary 3 reels of the classic slots and 5 reels for the video slots. Players will be boosted with some special multipliers depending on the direction of their wins. So if you can make a combination from left to right, you will get a standard prize of 1X Win according to the paytable. On the other hand if you can make a sequence from right to left, your win will be doubled. The formation from top to bottom offers a value of 2X multiplier. And if you win from bottom to top the value is 4X times the win. With the scatter Trophy symbol, you will win a total bet of 5X and 10X.