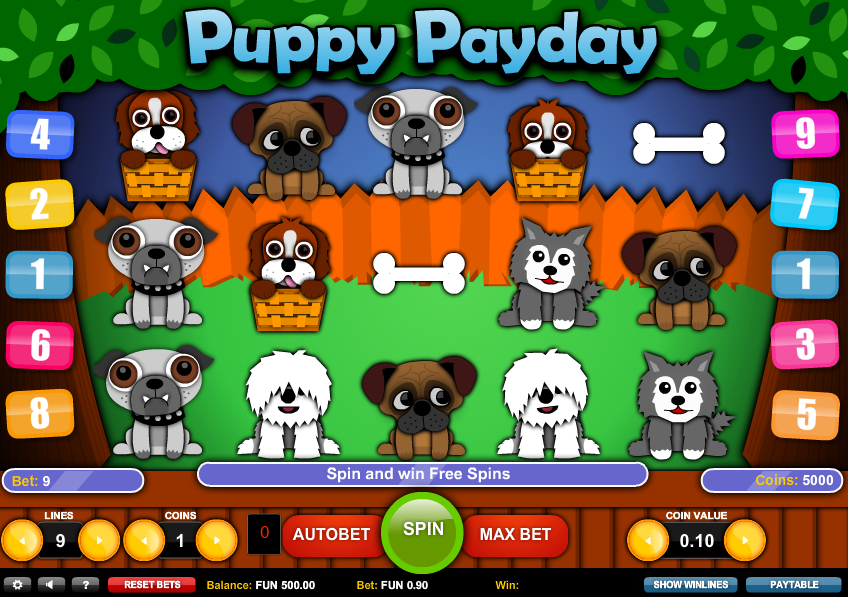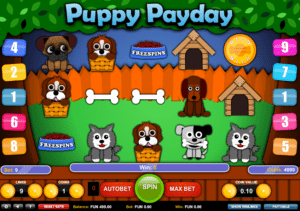 Puppy Payday is a so sweet free slot game dedicated to dog lovers. Obviously, the plot of the game is so simple. A group of puppies were escaped from a pet shop. The player is given a task to collect these puppies and bring them back to the pet shop. An easy task but with pretty serious prizes. This free slot machine offers two major bonus features. First one is the free spin bonus round feature and the next one is the wild bonus feature. Both of these bonus rounds are capable of increasing the level of entertainment as well as the size of the prizes. This amazing game is suitable for any level of slot game players from a novice to high stake roller.
Free Slot Online Puppy Payday
In fact, there are 225 different staking options which starting from 0.01 coins. The max level is limited up to 9 coins per spin. On the other hand, this game has suitable versions for any kinds of mobile devices including iPhones, iPads, android phones and tablets. This game has a wide range of symbols as well. There are bonus symbols, kennels symbols and also puppy symbols in this game. Each of these symbols have different prize tags attached. The highest paying symbols is the symbol of Red Setters.