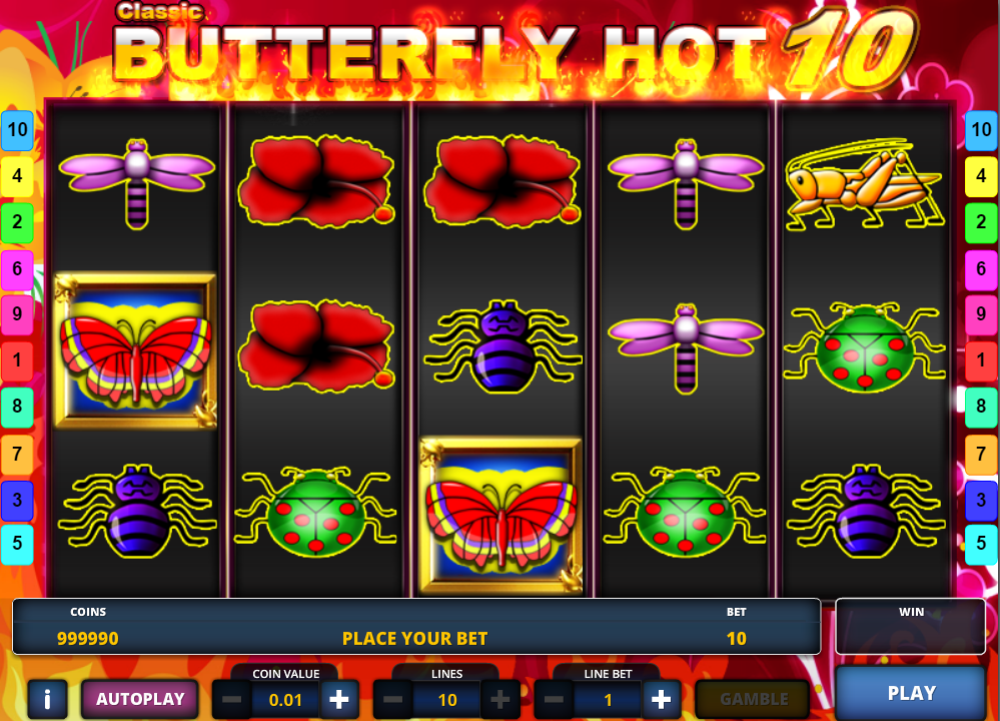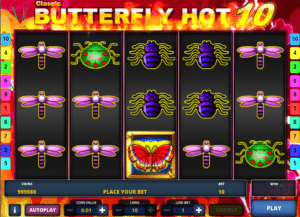 Zeus Play seems to love Butterflies a lot. They have been coming up with a series of butterfly oriented games. If you happen to like the first one – Butterfly Classic, then you are in for a treat. This is yet another butterfly-themed game called Butterfly Hot 10 – which seems to be growing fast among the players. Indeed this game is quite popular from the developers. It comes with 10 pay lines and there are 5 reels. The minimum bet over here is 0.1 credits per line while the max bet is 25 credits per line. There are many insects and animals on the slot machine that feature as symbols. The graphics isn't very interesting though – they could be better. But as a free slots game, it somehow invokes a vintage feel and takes you back into the 50s casino world where the visuals were equally unsophisticated.
Free Slot Online Butterfly Hot 10
The goal here is pretty straight forward – you have to line up at least three of the same types of symbols on the reels. There are many games which require 5 matches – so this is a better bet and much more interesting. While you play the free slot machine game, you will once or twice spot the big golden star on the reels. This symbol is for the scatter round. Yes, there is a scatter round here unlike its predecessor Butterfly Hot. So those looking for an upgrade can switch to this game. The scatter symbol is independent of the position. It only depends upon the number of scatter symbols you have on the reels – and you need 3 of them on any pay line to trigger it.