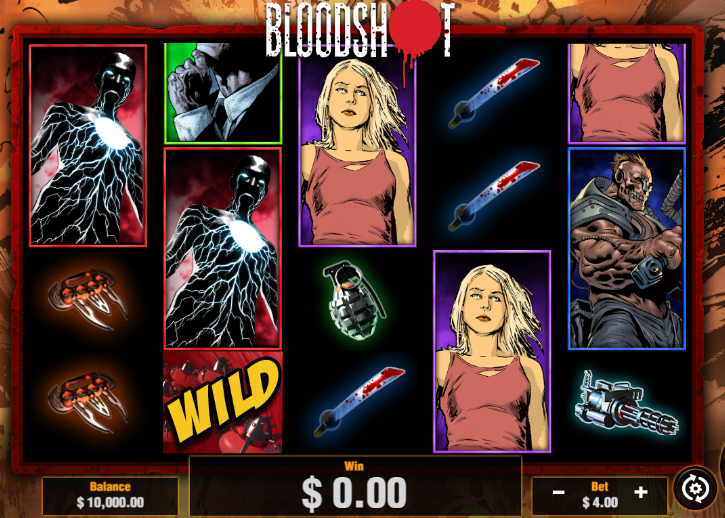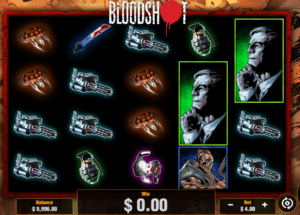 Bloodshot slot game is the game of 40 paylines with 5 reels. It is time to follow Blood Shot to his quest to get vengeance. This is a comic character and he got injected the nanites by a scientist who was doing the experiments on him. Afterwards, he was able to regenerate and to metamorphose. However, he is not happy. The memory had been erased and he is trying to find a man he was.
Free Slot Online Bloodshot
The Blood Shoot has a gang full of vigilante and they are trying to find the man who is the cause of these evil experiments. The spin starts at 0.40 and the maximum is 20 dollars for each spin. The action will be unfolding on the reels and you will have to pay attention since a spider machine can come on the reels and will splash blood as wilds on the reels. It is possible to trigger the bonus game, multipliers, and free spins with non progressive jackpot worth 2,500 coins.
Game symbols
Bloodshot slot machine was designed to look like the comic book it was based on. There are many fighting scenes found behind the reels. There are clouds full of toxic smoke, flying debris and explosion which were sketched at a screen. Dripping blood is found around the reels and you can find Bloodshot, electricity charged man, super muscular bloke and a woman. These characters are looking to get the scientist who is featured also at the reels, Other symbols of this game include blood nanites, masks, guns, grenades and machetes.