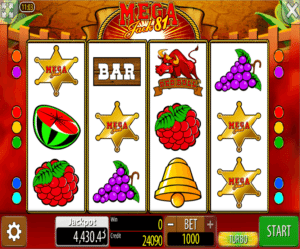 Would you like to play a really easy game? Wild Jack 81 has 81 pay lines lined up for you. This means that all the 4 reels are open for payment. Anywhere the correct symbols land, you have a chance to win. It will not take you much time to hit big rewards in this online free slot machine game. The slot is obviously based on the adventures of the Wild West. The only "danger" however in this game is the big prize money hiding somewhere in the desert. If you can find it, you'll be the winner of huge jackpot.
Free Slot Machine Wild Jack 81
Have you wandered here from the other game Wild Jack? If so, you will find a lot of similarities between the two. This game is as, if not more, rewarding than its predecessor. Here too you will find the same leitmotif and he'll take you for a treasure hunt into the Wild West. Sounds like fun, doesn't it?