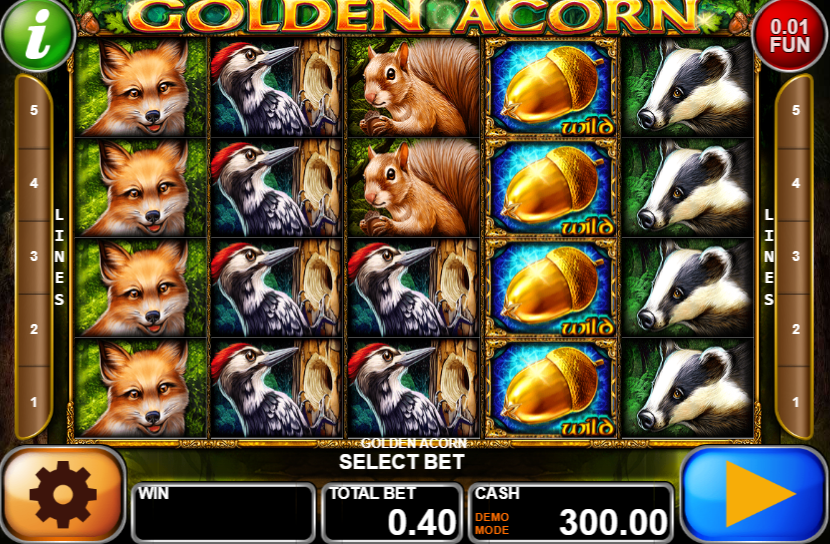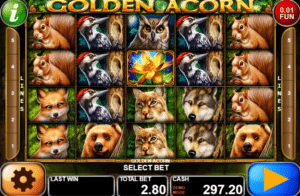 Golden Acorn is the game with a spring theme which makes the fresh start and renewal of the nature with all its inhabitants. The flora and fauna of the forest has a rich source of inspiration for many painters and writers and now for this slot machine.
Free Golden Acorn Slot Online
The game is all about the nature, especially the forest world. The game is taking up in the deep wood and it is found in a peaceful and tranquil atmosphere. The reels have been integrated in the background that has frames of acorn motives and foliage in the golden lining. The reels symbols of these reels take up the entire space which had been allocated for them and they give enough elbowroom to the designers so that they can work on them with more details. The music at the background is artificial and it has an upbeat tune which plays every time the reel starts to spin. There are also the perky and joyful sounds but they have nothing to do with the theme.
The commands of the game are found at the bottom of 5 reels and the paylines are 40. This is a lot and it is important to remember that playing with all the paylines increase the chance of winning a higher prize. To pick the value of the game, the player has to decide on the bet and credit. After setting everything, then the player should hit at blue start to play.
Game symbols
The symbols of the game are eight and they are based on forest dwellers such as Squirrel, the badger, owl, Wolf, Lynx, Fox and woodpecker. The best symbol is a bear and five of them are worth 1,000 times.