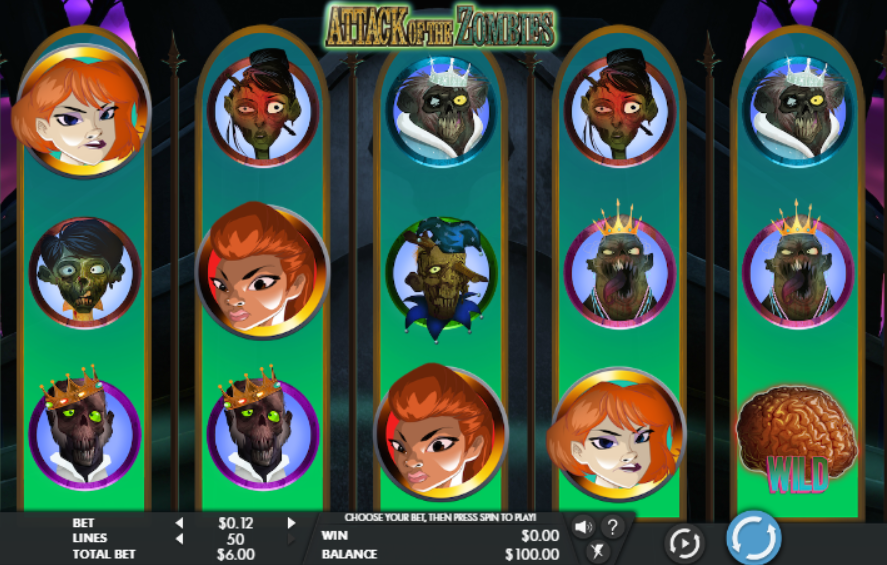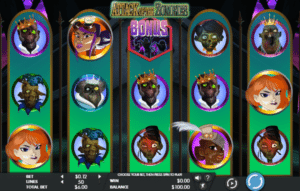 Zombies are something everyone is a little bit curious about. They are the one theme no one ever links to the free slots. Genesis Gaming came up with this novel idea of creating a Zombie based theme which has fun, adventure and nice payouts. On an overview, this game seems to have 5 reels and 50 pay lines. The graphics seems to be quite interesting. Instead of giving it a gruesome vibe, the makers have kept the vibe pretty funny. Yes, there is a spooky graveyard in the background and there are crypts and a purple sun. But these are all cartoonized and the end result is that you have a really fun game with some interesting zombie features.
Free Attack of the Zombies Slot Online
There are four female zombie hunters on this free slot machine and they are all similar in value. These four zombie hunters are out for hunting six zombies in the woods. Guess what the wild symbol is? It is the brain! Yes, it is a somewhat orange colored brain, which we think is colored this way to make it look delicious to the zombies. Let's talk about the fun part – the bonus features. There is one interesting bonus feature here called the Antidote free spins. The antidote symbol has to land on the reel number three. But before that all the four of the zombie hunters will become zombies. After you get the antidote one of the hunters will turn back normal and she will become a wild symbol and replace all the other symbols. Thus begins your free spins rounds. That is quite something. Overall, this game is creepy enough and rewarding enough for all the zombie lovers.