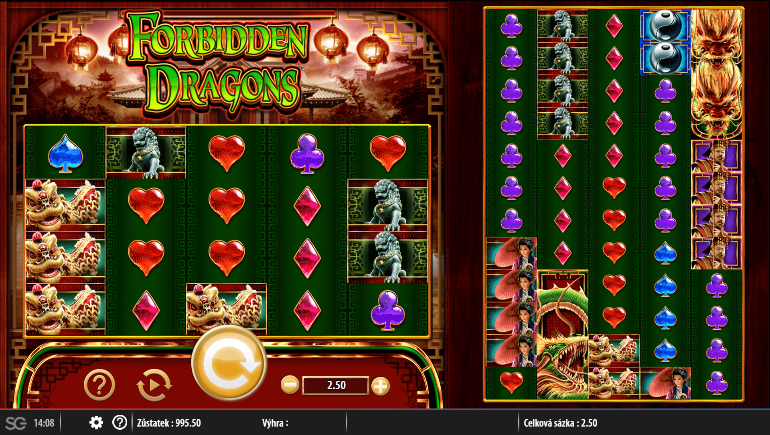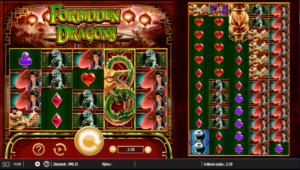 Dragons are probably the most popular mythical creatures in the world of online free slot games. This amazing online slot is also based on a mythical land (obviously ancient China), heavily influenced by fearsome, fire-breathing dragons. This slot game also uses a colossal reel system with two separate reel sets (5×4 and 5×12) with 100 paylines. It is one of the most popular modern day reel systems with lots and lots of winning potentials. Thanks to this amazing modern configurations and world class graphics and animations, the game has gained popularity among all levels of slot game enthusiasts from all around the world.
Forbidden Dragons Free Online Slot
The theme of this free slot machine has heavily influenced by dragons as well as ancient China. It is clearly visible through the background graphics and the symbol lot. Even though the game has a set of basic card related symbols, apart from the set of theme related picture symbols, all are somehow related to Chinese arts. The card symbols are very important too as they are the creators of smaller but more frequent wins. These smaller wins are the life lines to keep you alive in the game until finding a bigger jackpot.
On the other hand, playing this free slot game is as same as playing two slot games at the same time but with one investment. There are two separate reel sets and both are capable of providing separate wins. There are some amazing bonus features available in this game as well. One of them is the transferring wild feature. Transferring wilds appear in the left reel set first and then transfer into the right side reel set. These amazing wilds are capable of offering winnings within both reel sets with every single spin.
Apart from these wilds, there are also another special symbol called the bonus symbol in this game. The bonus symbol is represented by the dragon symbol. These dragons are the keys to open the amazing free spin bonus round.