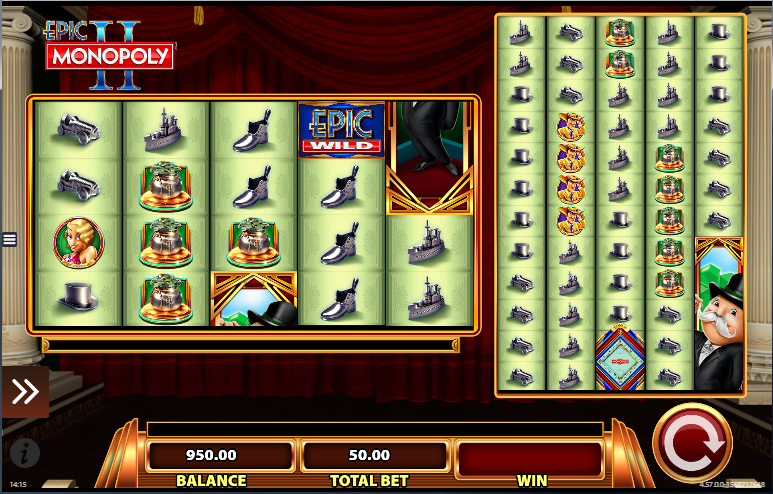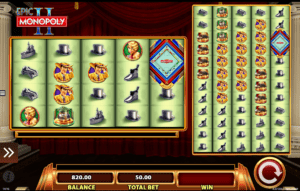 Epic Monopoly 2 is a very unique free slot game based on the immensely popular board game, monopoly. There has been several other slot games also based on this board game but this is definitely the best of them all. Other than providing nonstop entertainment this amazing slot machine is a nonstop cash machine as well.
Free Epic Monopoly 2 Slot Online
The game is an epic game from all aspects; although the best aspect could be the unique user interface. It is not limited to just one reel set; instead it has two magnificently developed reel sets to make sure that the cash flow never stops; both these reel sets are capable of producing winning combinations separately. So, it is almost like playing two slot games at once but with just one wager. The main reel set is similar to most of ordinary reels with a 5×4 structure. The other one is in fact is a colossal reel set with an extended 5×12 structure.
This special version of online monopoly slot is actually packed with various bonus features. The free spin bonus, the wheel bonus, the chance bonus and the around the table bonus are some of them. The symbol collection is simply magnificent for this free slot game. Most of them are related to the classic Monopoly board game. These symbols are also the keys to open the prizing system. Each of these symbols are allocated to a set of prizes. The amount of the prize is heavily depending on the size of the initial bet. SO, you should be very clever when choosing the wager amount. Actually there is a good range of betting options to choose from.
The wild symbol for this online slot has the powers to substitute any other ordinary symbol. The wild symbol is also capable of becoming stacked in the main reel set.