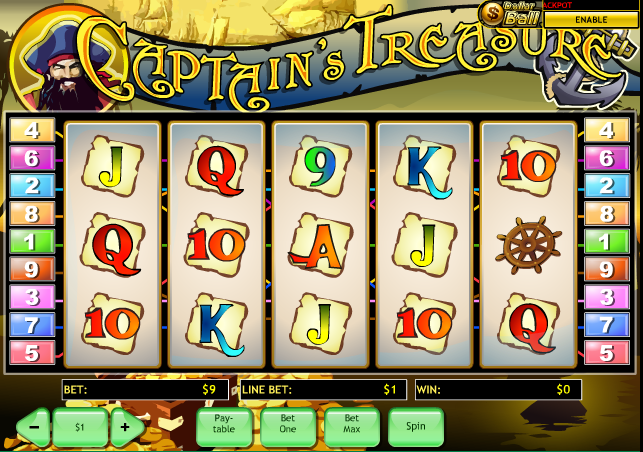 Pirate themed video games have been phenomenally popular among gamers around the world, and basing on this factor that Playtech has introduced this idea into its slot games. Captains Treasure 9 Lines is one of the most popular free video slot of its times. A 5 reel 9 payline game, this one is meant specially for their brave hearts who have the spirit to ride the waves and find lost treasures in distant uninhabited island. Though it be exaggeration if said that this is what the game is about, it is essentially what is said in the preceding lines. With a maximum coin limit of 5000, this free slot will embark you on an adventure of finding treasure chests and anchors and human skulls, each of which holds a bonus. The best feature of the game is its progressive jackpot which keeps multiplying with your winnings.
Free Captains Treasure Slot Machine
The best part of Captains Treasure 9 Lines is that does not require a download. It has a no-download version that you can play on. Besides, gamers can play these free slots fine without installing any special software in their systems. The game has innumerable symbols and icons, mostly related to its plot, like captain, steer-wheel, anchor, swords, treasure troves, ace, kings and queens, ten, nine, maps, compasses, etc. You have a choice between the sizes of coins, that start at $0.02 and extend till $20.00. With the minimum value of the bet which is $0.18, you can cover the entire 9 lines, while for the maximum bet of the game is as high as $180. The highest of the jackpots that game is 5,000 coins which has a real life value of $100,000. In iconic value, it is same as 5 swords. The wild symbol in the game is the captain. Reap the many opportunities of the game by start from the lowest bet.