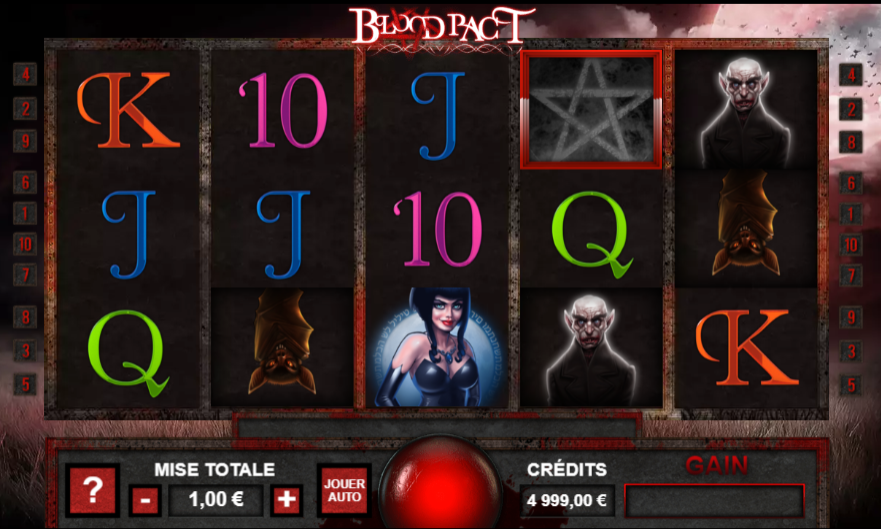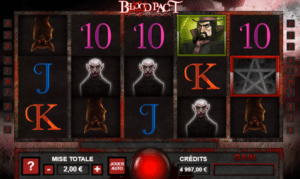 Blood Pact slot machine is a game where the player has to play as a vampire hunter. The task is about chasing the creatures that comes out in the night and to drive the stake into their evil hearts. This will help to cleanse the world against these evils. If you are successful with your hunt, then you are going to be rewarded handsomely.
Blood Pact Free Online Slot
The game is striking and it has impressive graphics with dynamic screen. The graphics makes the game to look creepy. The game looks dark with the blood spatters and flame. There is a large colony of the bats into the background and they are flying over a large full moon. At the common buttons, all other practical elements of the game had been integrated within the universe of the game.
The game is based on 10 paylines with 5 reels. This implies that every bet will be placed at the paylines. The player has to do its best so that he can get the winning symbols found on the paylines, in order to win. The rewards are now based on the symbols which are involved into wager size. You can use the command bar within the reels so that you can choose the bet before you make the spin. Bigger wager can be risky but it will also yield better rewards.
Game symbols
The symbols of the game are classic symbols that start at the jack, 10 numbers, Ace, King and Queen. Other symbols are a sexy female demon, hunter symbols, bat and a vampire.