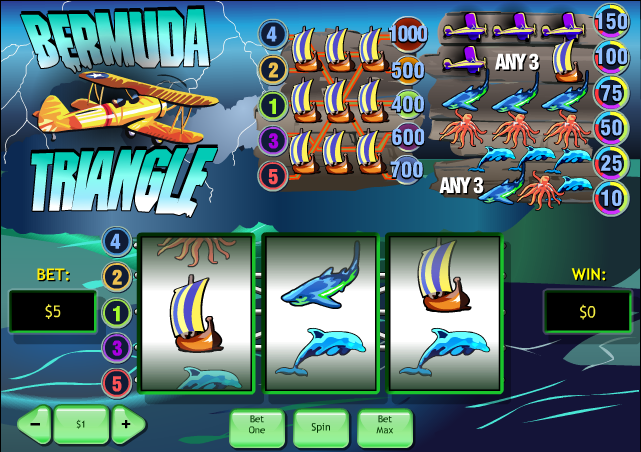 Playtech has sought to integrate some classic marine characters into the ever-intriguing theme of Bermuda Triangle through the game titled on the mystery itself. Unlike the real mystery, you need no real mathematical skill to get going with this free slot game. To put the perspective simply, the game is completely devoid of free spins, scatter symbols, gamble features, bonus games, wild symbols or even multipliers, that is why it is posted in category slots for fun. While this might not appeal the slot game hardliners, you have to consider the fact that with a minimum one penny bet and limited play lines, all combinations in the game can be covered up for just $0.25. In any other regular slot game you would have to shell out anywhere between $20 and $30 to cover this expense. The game also has an appealing retro theme that takes you back to the era when free slots games were manual and not based on videos and gaming sites.
Free Slot Bermuda Triangle
There is a simplistic design with 5 play lines and 3 reels. You will have to spend a minimum of one penny on a bet and you have the option to invest up to five coins on each spin. The highest singular jackpot in the game is 1000x. To avail the prize, you will have to align three ships diagonally from upper right to bottom left corners of the reels. There is no bonus round in the Bermuda Triangle free slot game. However, in the absence of a bonus round or a progressive jackpot, you will find a much higher rate of pay on the regular game itself. If you are a low limit player and like to stick to the basics, this is the game for you. If you have been playing other slots for a while, the game might seem a little drab to begin with. But there is a lot on the takeaway with little investment.