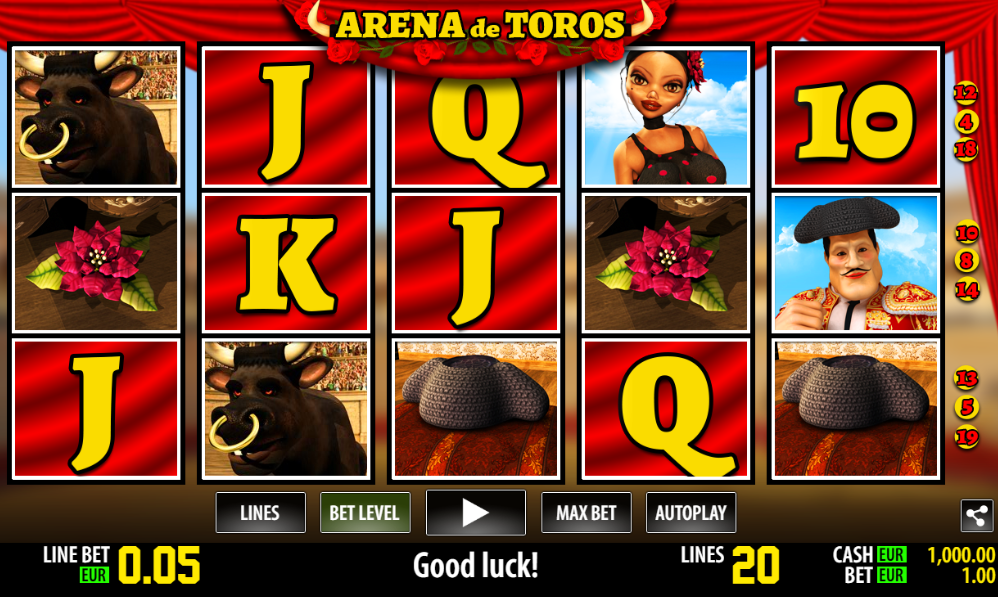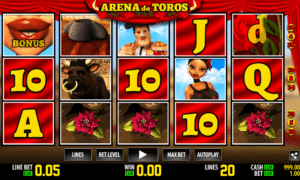 The Arena De Toros slot machine is taking place in the bullfighting arena. The screen is made up with crimson red and the title itself is colorful which capture the rush of adrenaline with the spirits which are provoked into the audience.
Arena de Toros Free Online Slot
The game takes place on a 3×5 reel with 20 paylines. The game gives a chance of defeating the bull and to cement the everlasting love together with a seductive woman which the bull fighter is in love with.
To start playing, you can bet starting at 0.05 up to 2.00. When you click on the lines option, you will be able to change the number of the volume you see and the positioning of such lines.
The auto play option can be set from 5 up to 1000. This means that the number you choose will equal the number of how many times the reels can spin without your involvement. If you click at the max bet button, you will set the game to the highest figure and the game will start to roll.
The screen is made up with red drapes which frame the scene with ten conventional tiles which are found on its 5 reels. The game comes with some extra features that will help you to win while playing.
Game symbols
The symbols of the game are the card which features plain yellow on the red and this win less amount. Other symbols are exotic flowers, infamous hat called Traje de Luces, the stunning girl, a fighter himself with the dreaded bull.