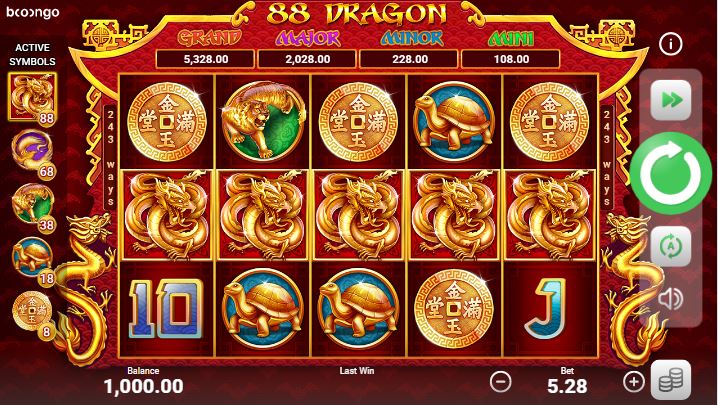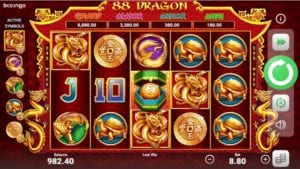 Chinese legend holds that there is an amazing treasure that was hidden by historicallydeities ages ago. To retrieve this treasure, one needs to gain access to the information that is hidden by various mystical creatures including the Turtle, dragon, Phoenix, and Tiger. The chosen one, who is yet to be found, is the only with the ability to derive this information and retrieve these riches. This is the conceptbehind the 88 Dragon online slot. This game gives players the ability to control these mystical creatures, thus finding the location of the hidden treasure i.e. the maximum payout.
Free Slot Online 88 Dragon
The primary attributes of this video slot include three rolls, five reels and most importantly, a maximum of 243 different ways to earn a payout. To win, players are required to get three matching symbols on at least two adjacent reels. However, the first reel always has to be the one on the left. Also, the game features a symbol upgrade feature. However, gamers are required to land the Gong no less than three times to get an animal upgrade or get free spins. Once the upgrade is complete, the player is likely to get any of the four jackpots on offer.
Symbols Present in 88 Dragons
There are 3 different kinds of symbols present in this online slot. The normal symbols largely comprise of mystical animals that are believed to hide the treasure namely, a Turtle, Phoenix, Tiger, and the most powerful of them all, a Dragon. The second kind, the gold symbol, is highly valued and takes the form of a Gold coin. Lastly, the least valued symbols include the Ying and Yang symbols, while the scatter is represented by the Gong.