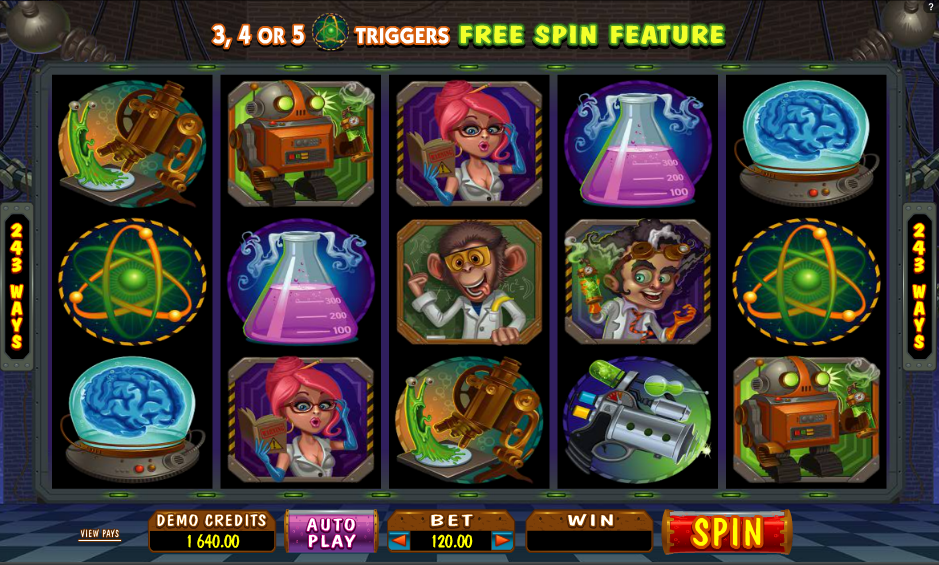 Dr Watts Up is a classic 5 reeled free online slot game which is quite popular because of its comical graphics. As the name suggests, the central theme of this free Microgaming slot is a mad scientist who conducts experiments in his laboratory. Apart from the casino game features, an element of fun has been added to the game through the artistically designed symbols representing a crazy scientist with bulging eyes, a pink haired assistant, a mad monkey and other symbols of lower values like microscope, brain, slug, phial of smoke etc.
Dr. Watts Up Free Slot Online Features
The game has fixed pay-lines with 243 ways of winnings the game. The minimum bet for each spin is 0.30 euros while the maximum is 120 euros per spin. The bets are placed in the form of coins with each coin value ranging between 0.01 to 0.20. This free online slot game has all the classic features like wild symbols, scatter symbols, free spins, multipliers etc. and also has a huge jackpot of 480,000 coins. The game is great for gamers who do not want to place heavy bets on a slot machine game.